MORPHINE
COMPENDIUM 02:
ROMA(NTICA)
MORPHINE COMPENDIUM 02: ROMA(NTICA)
IS MORPHINE AT ITS MOST ETHEREAL YET SENSUAL.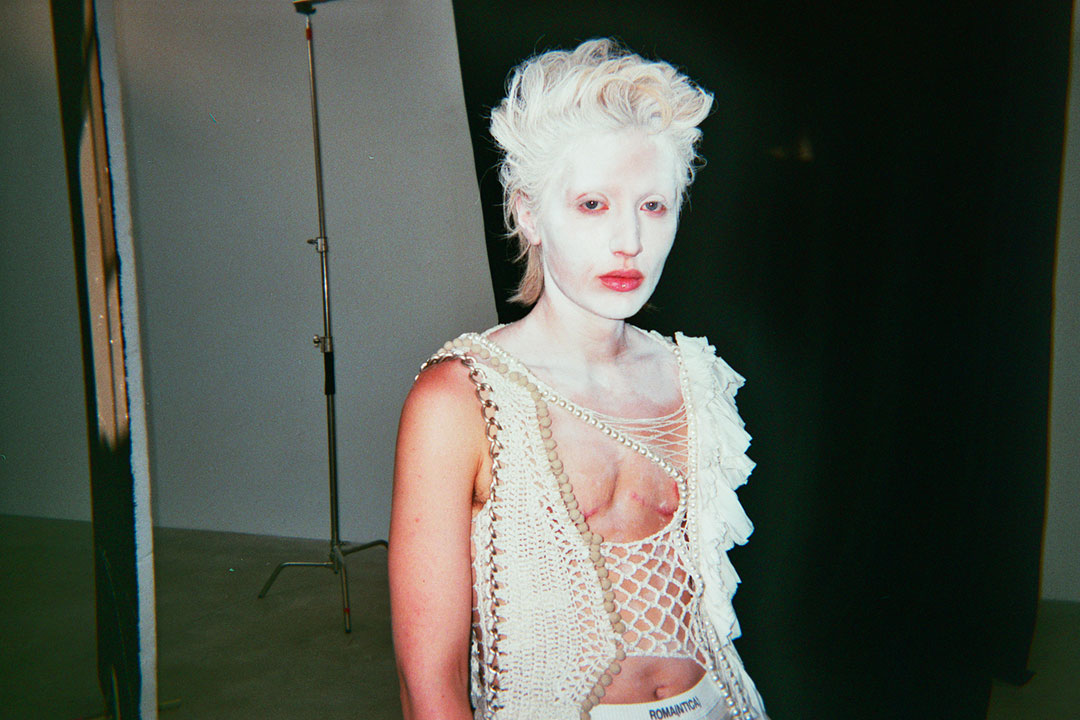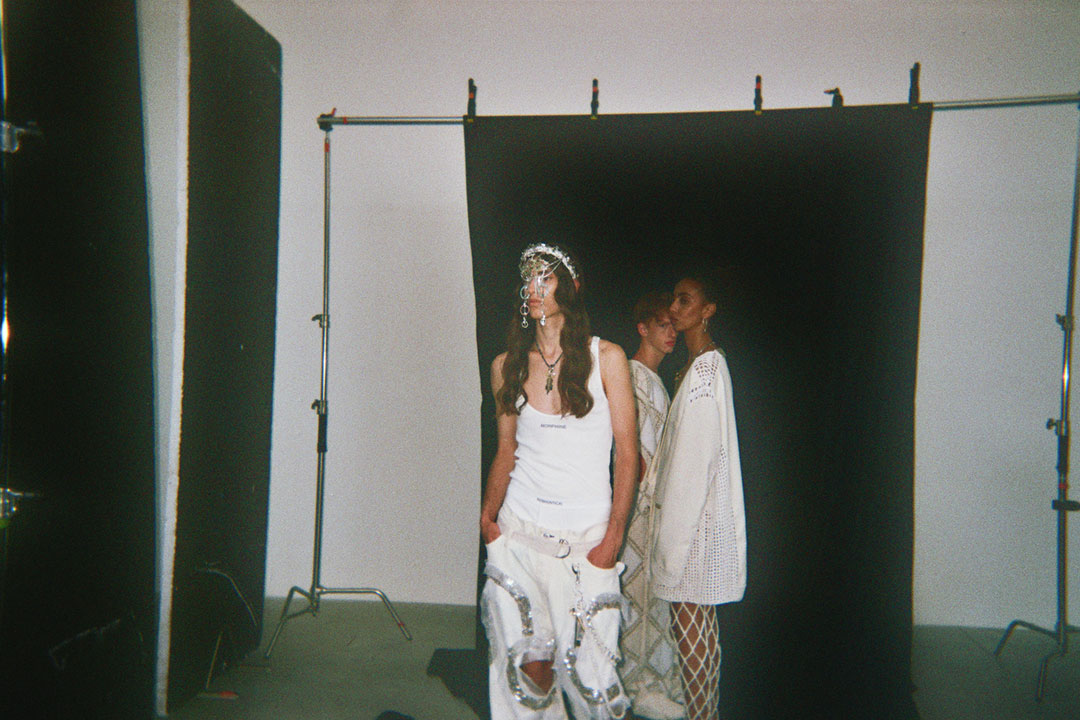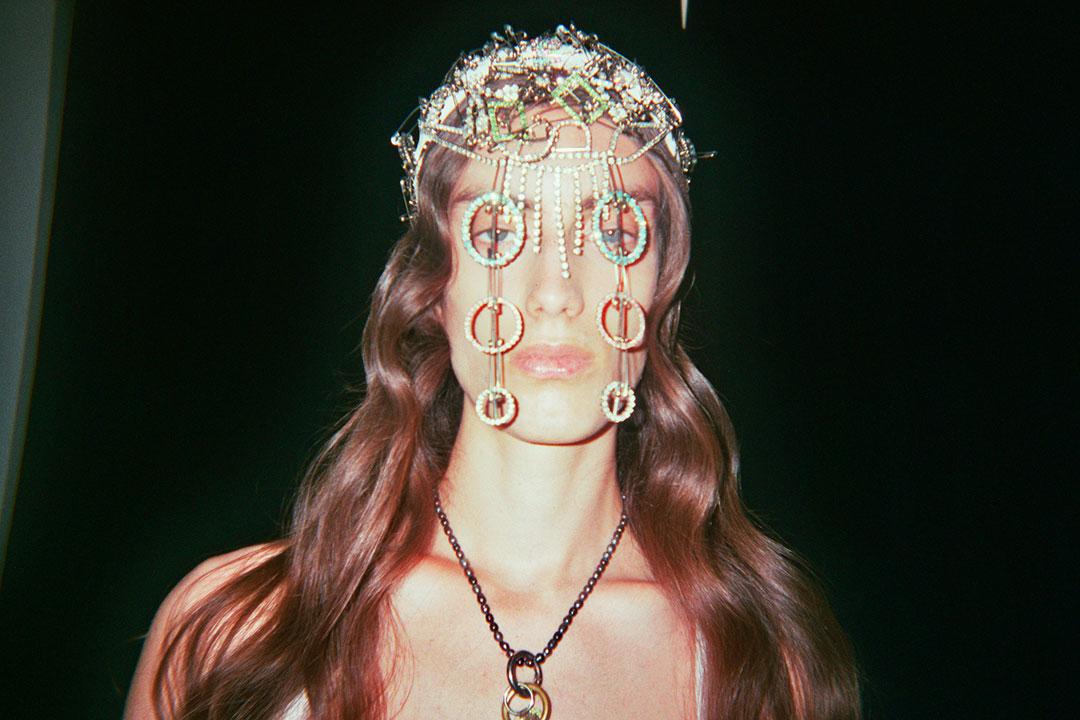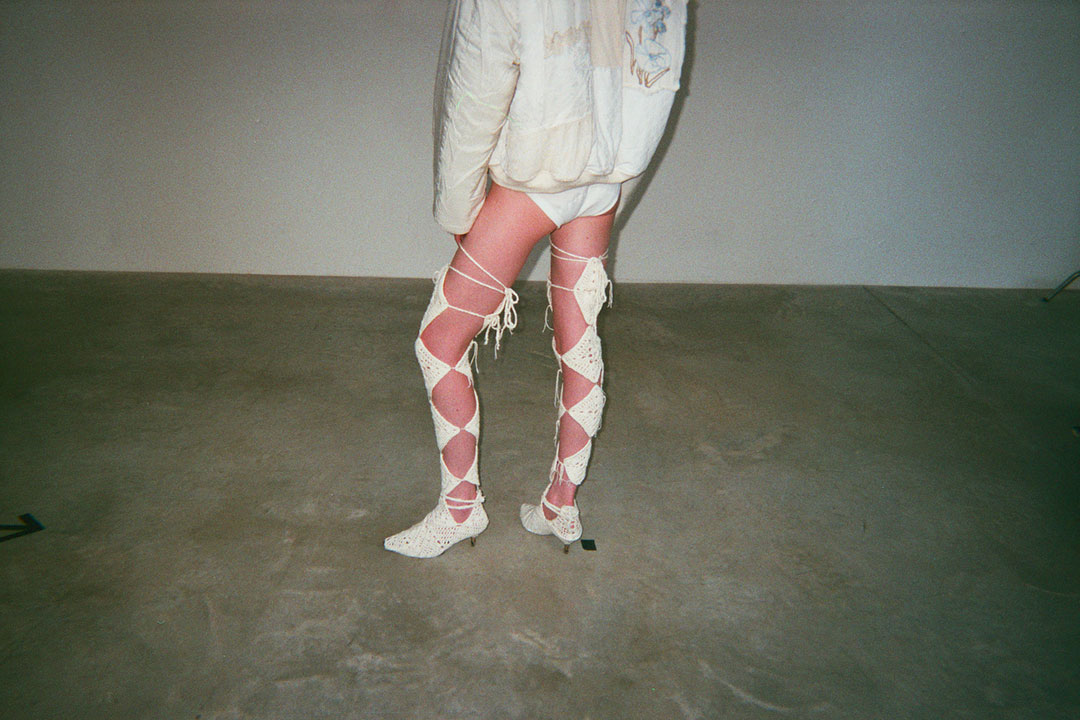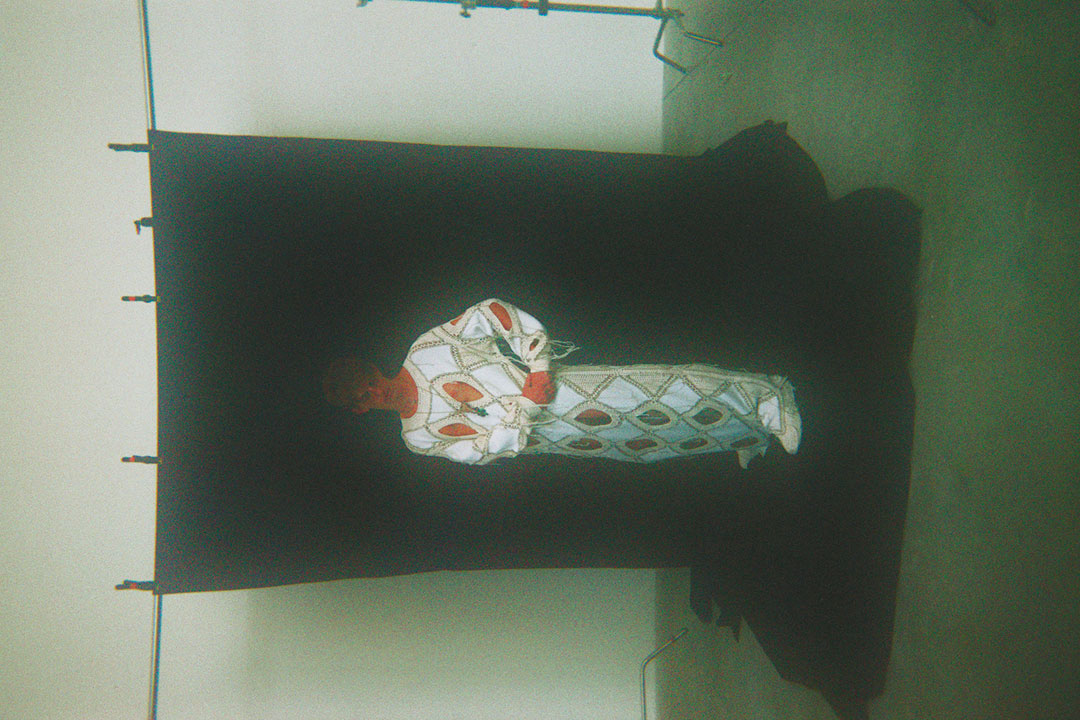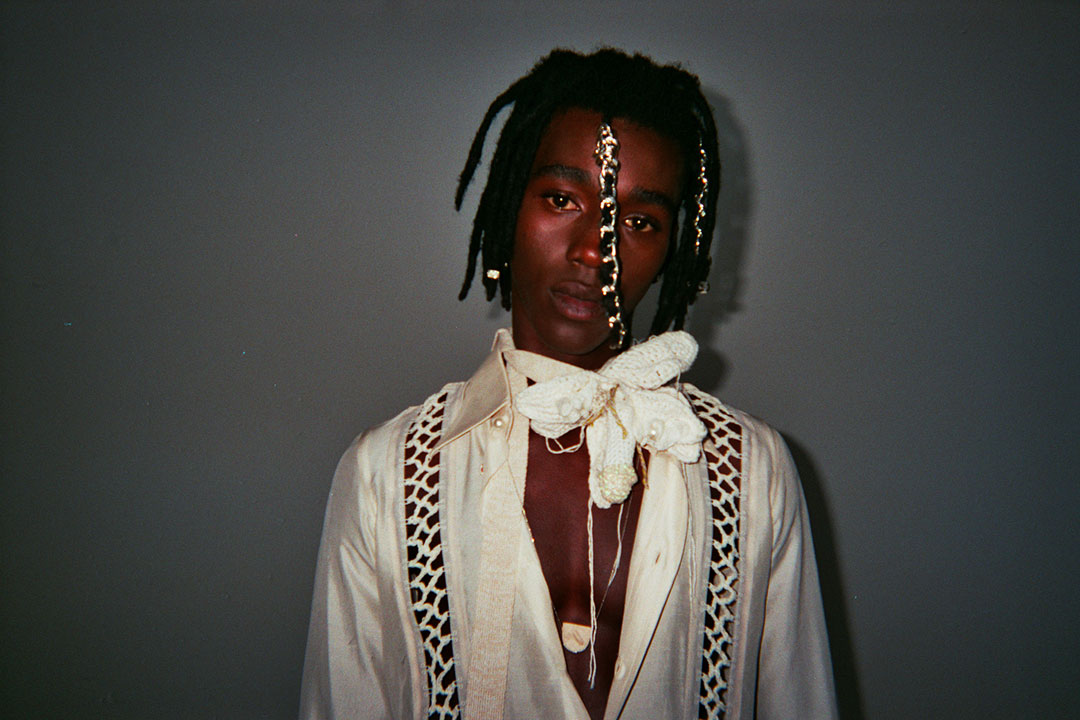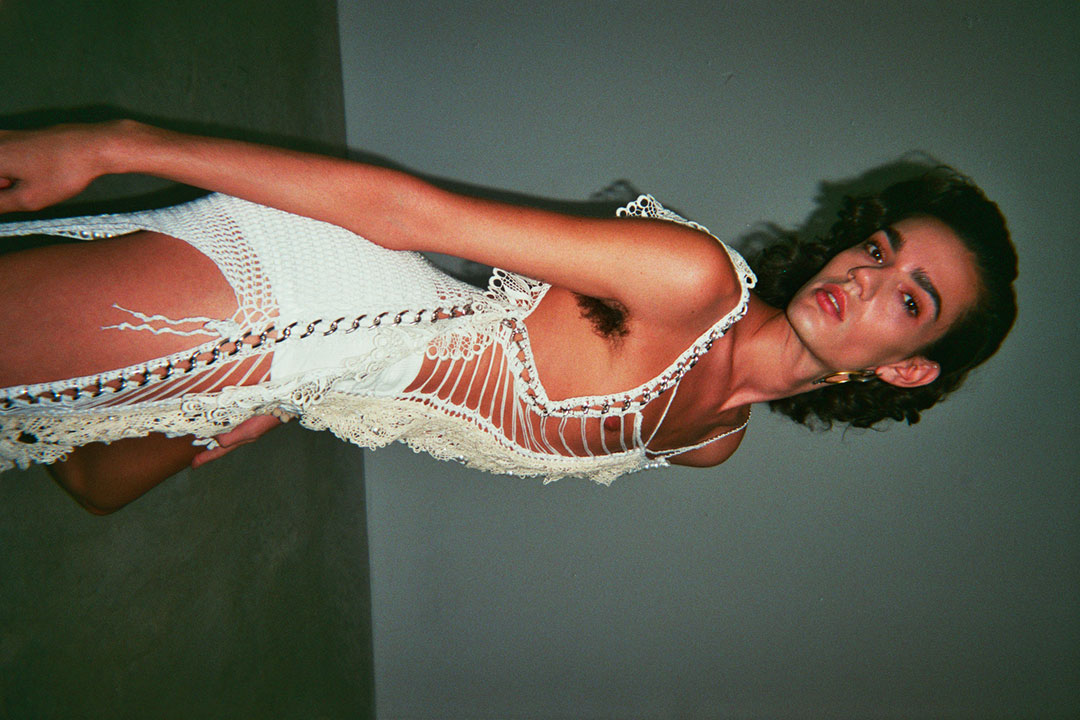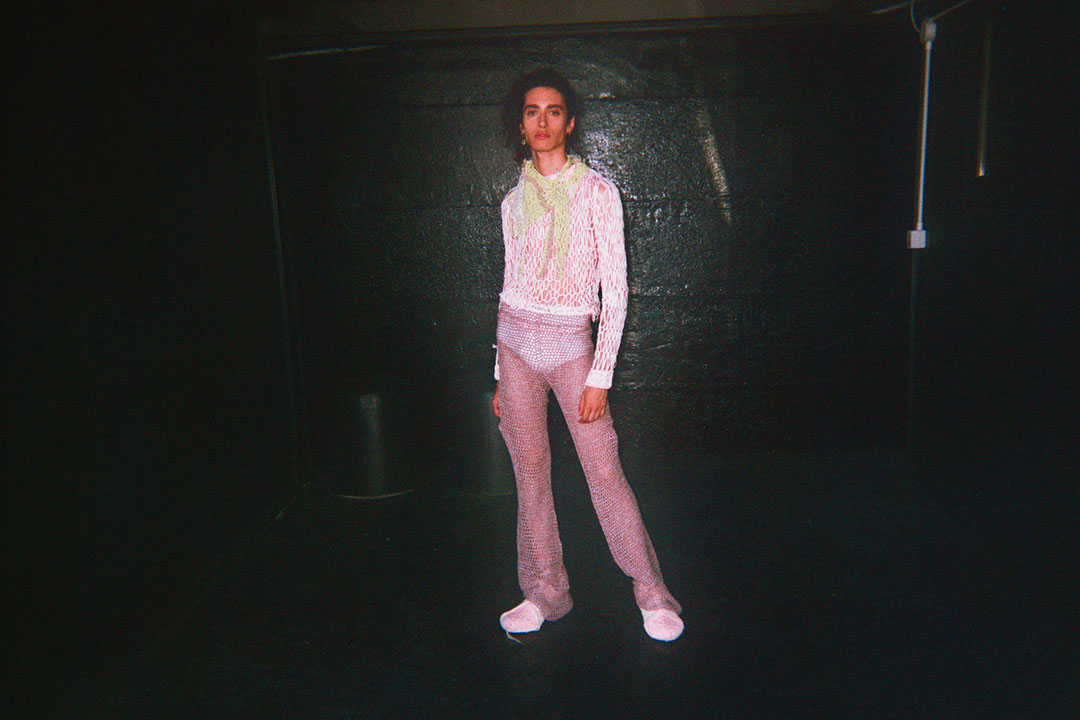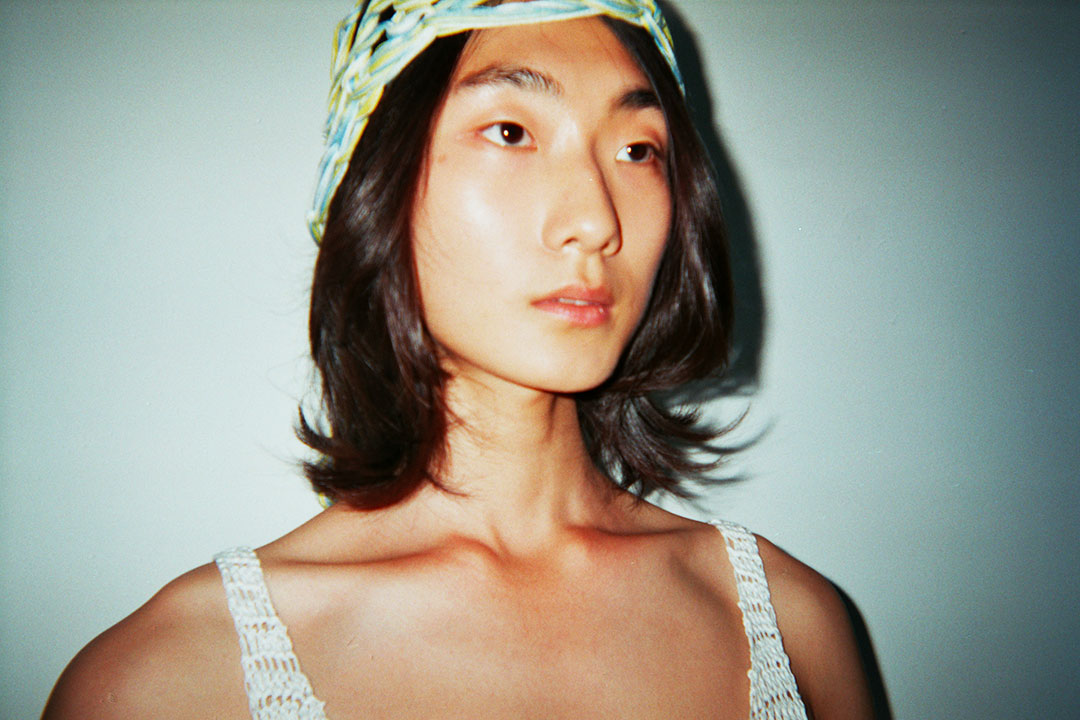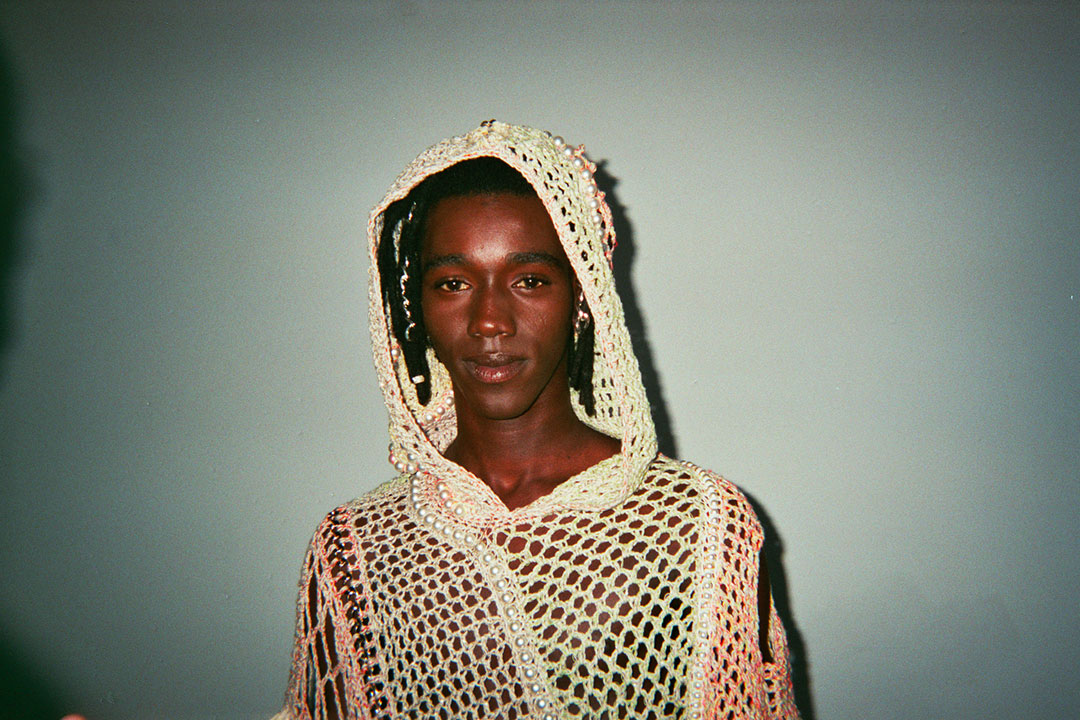 THE FASHIONS THAT MORPHINE, AS A BRAND, PRODUCES RELY ON THE TRANSFORMATIVE POWERS OF THE ARTISANAL ACT.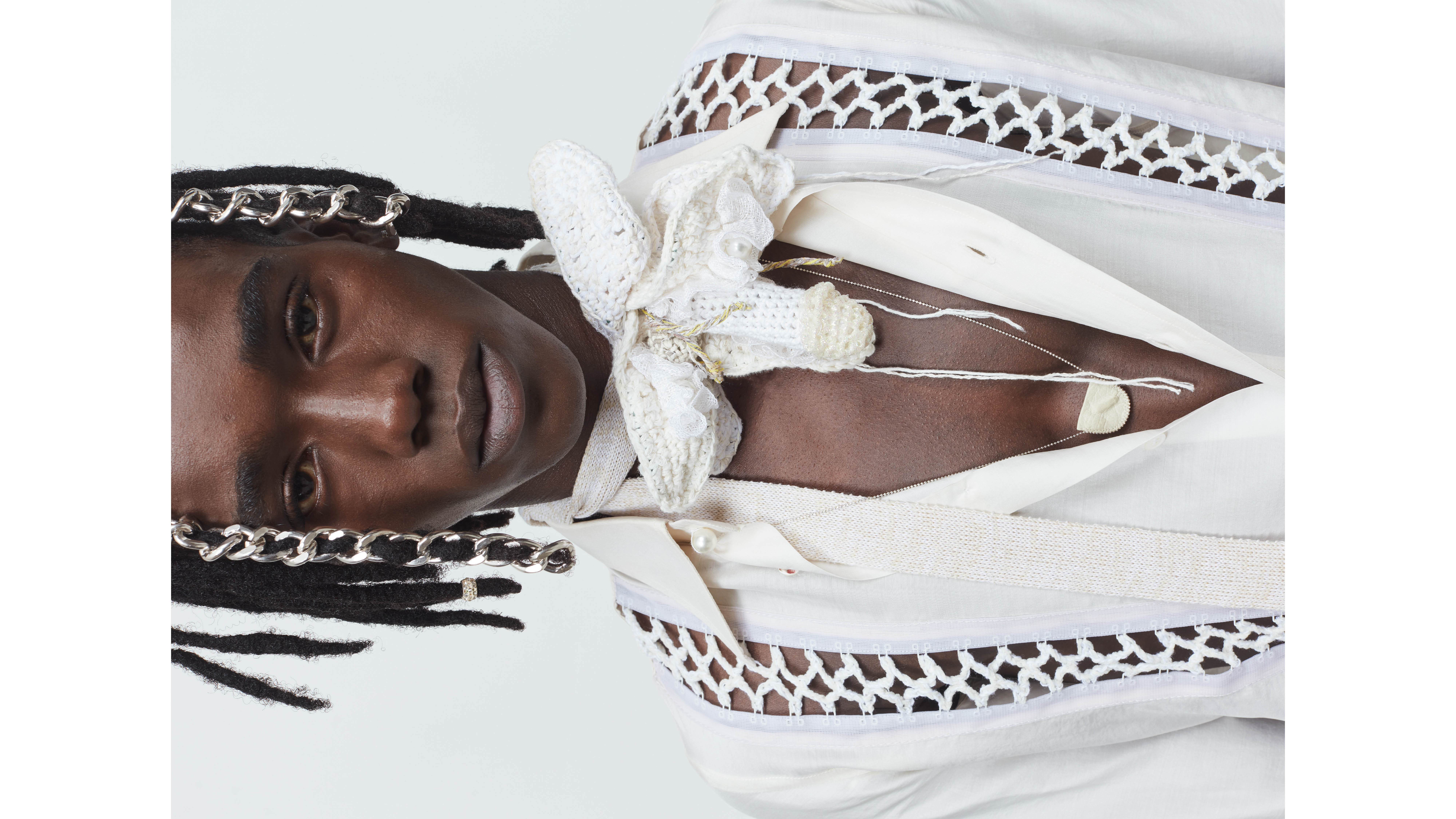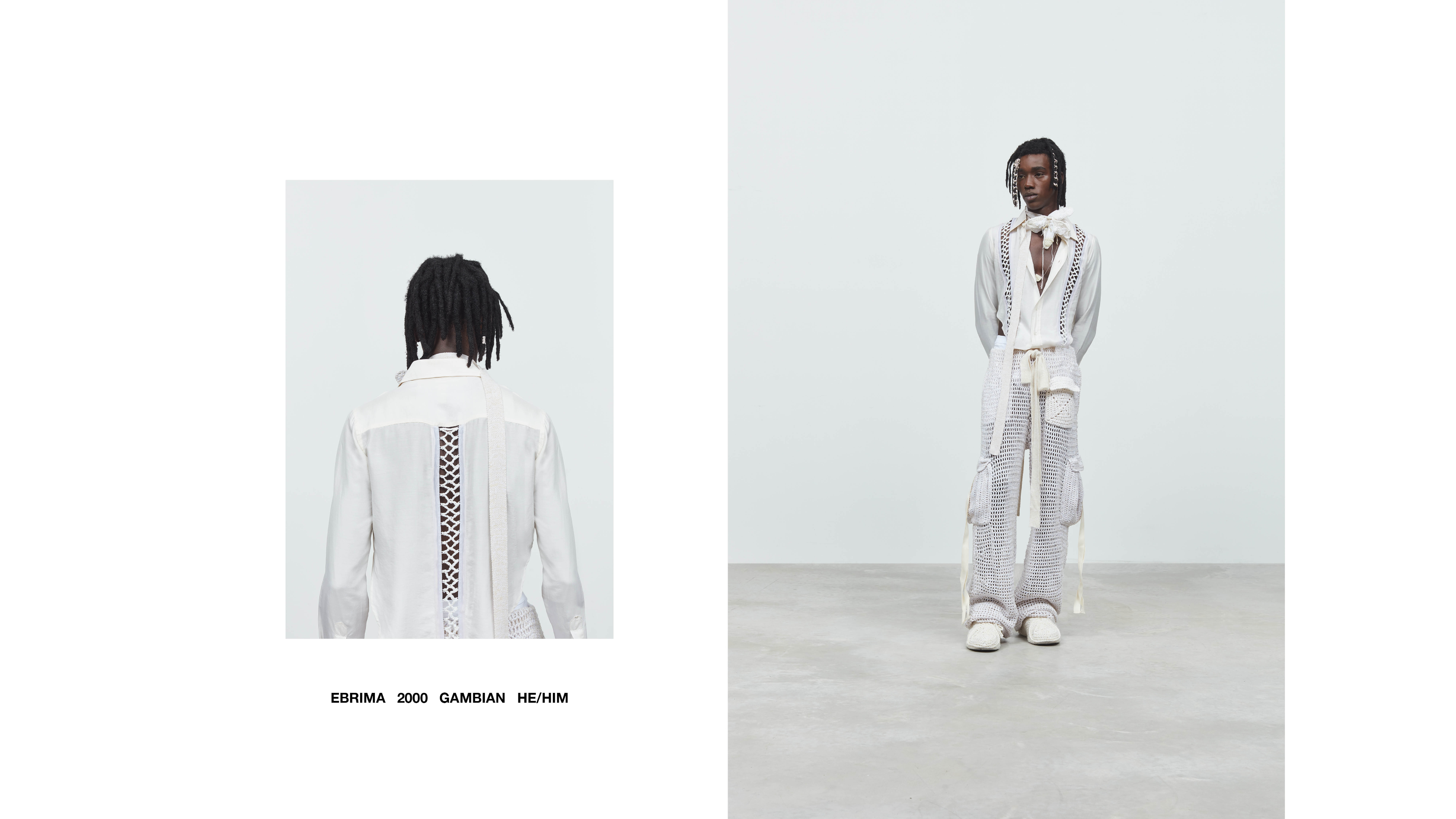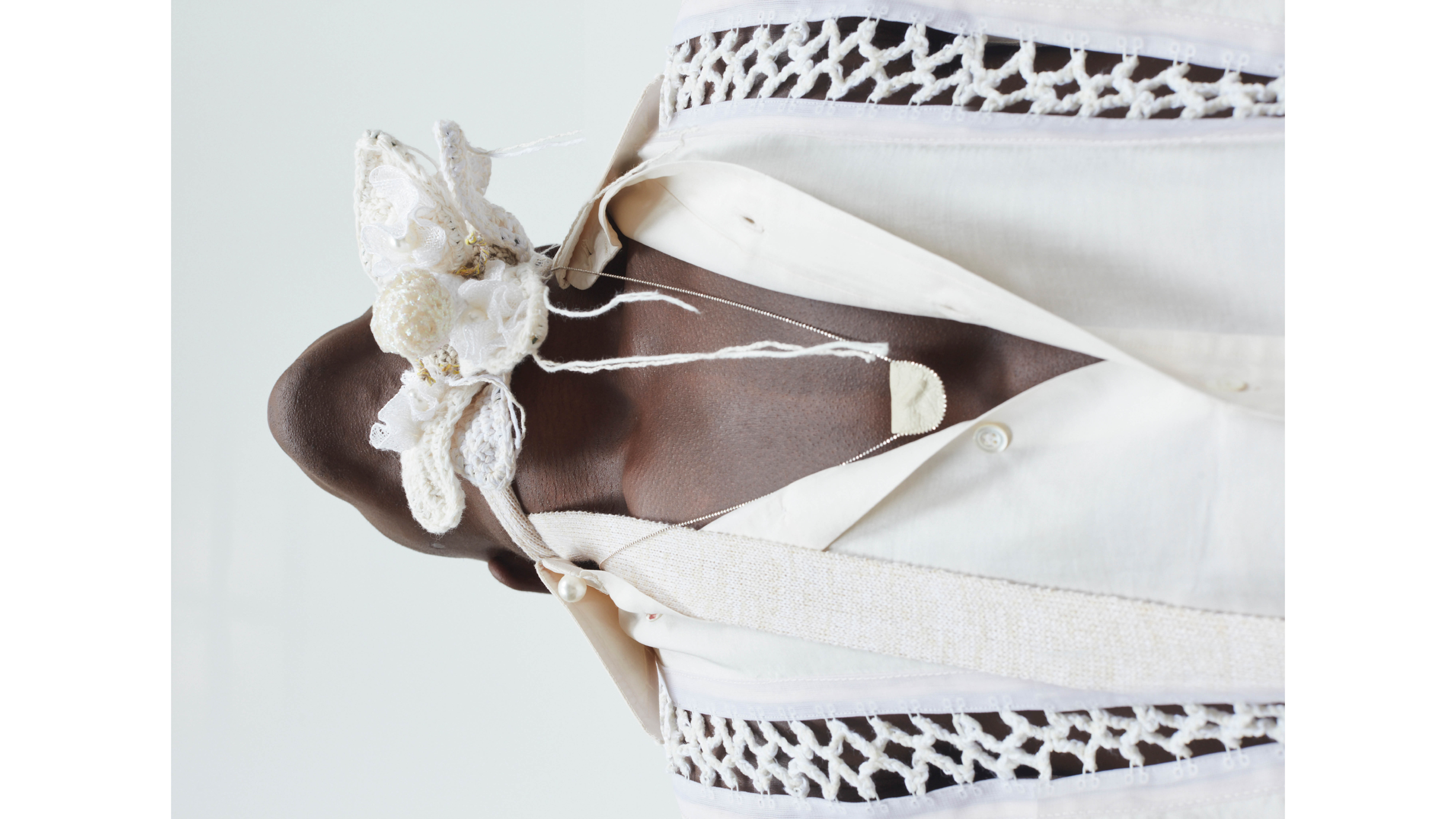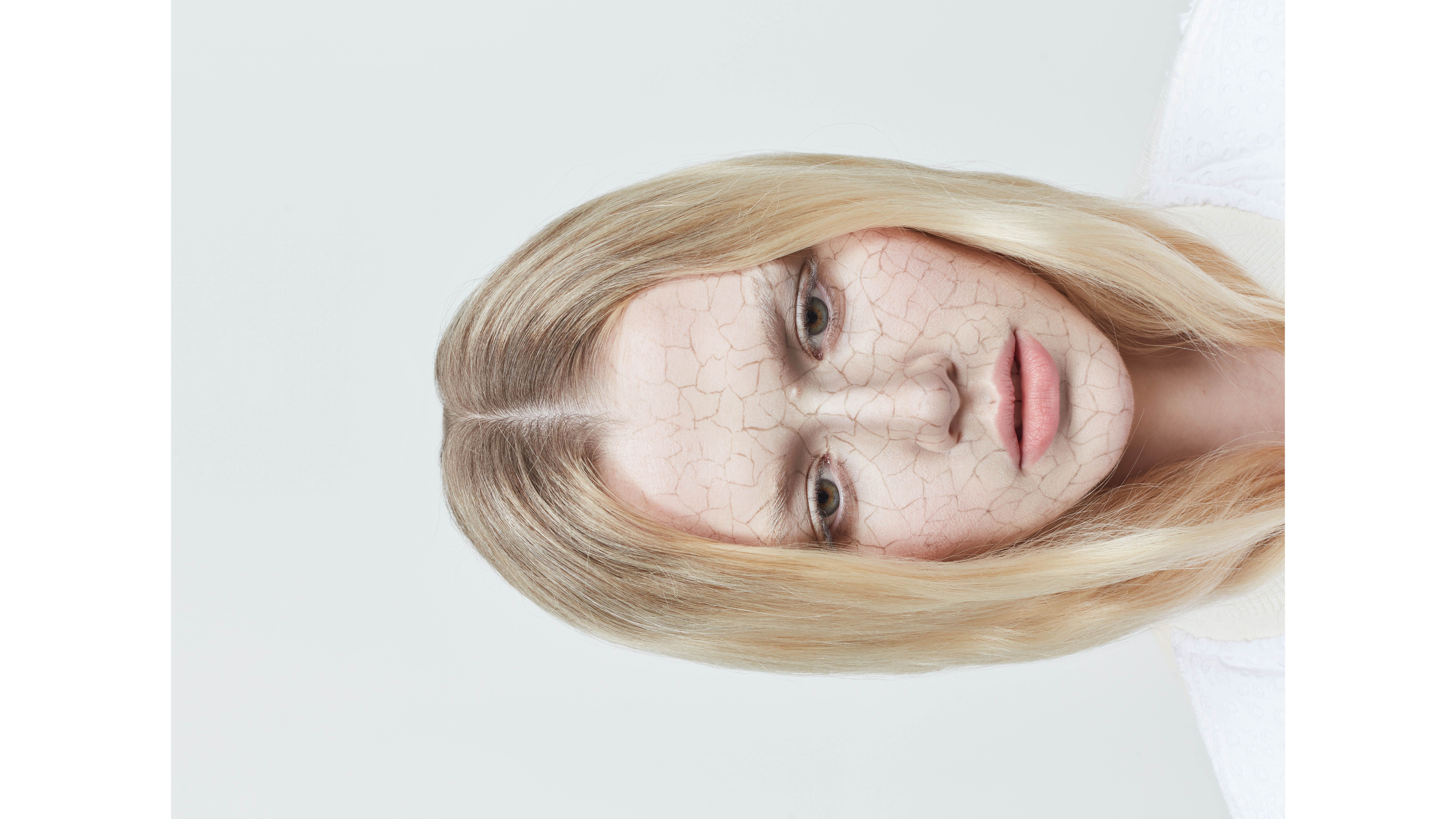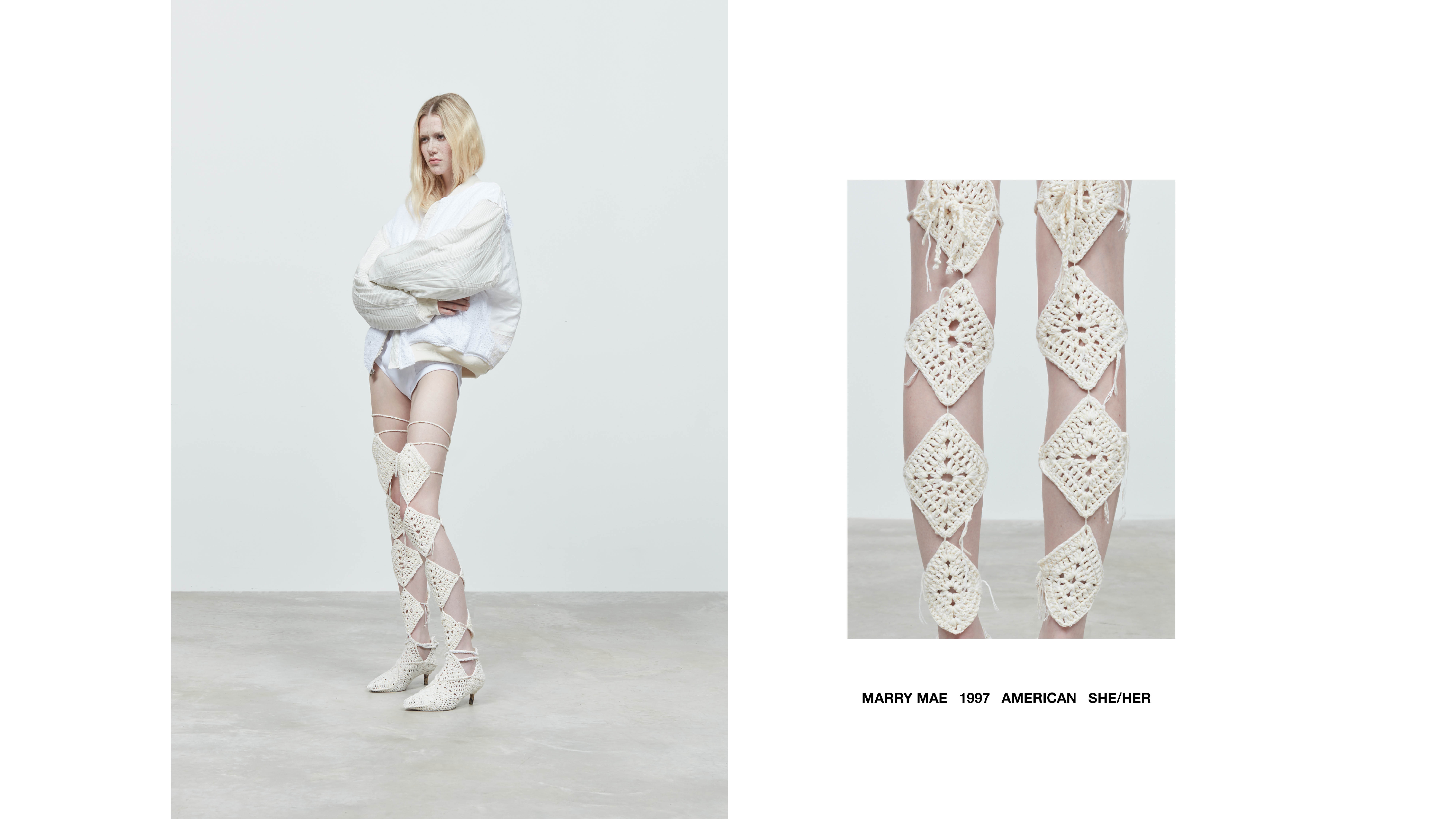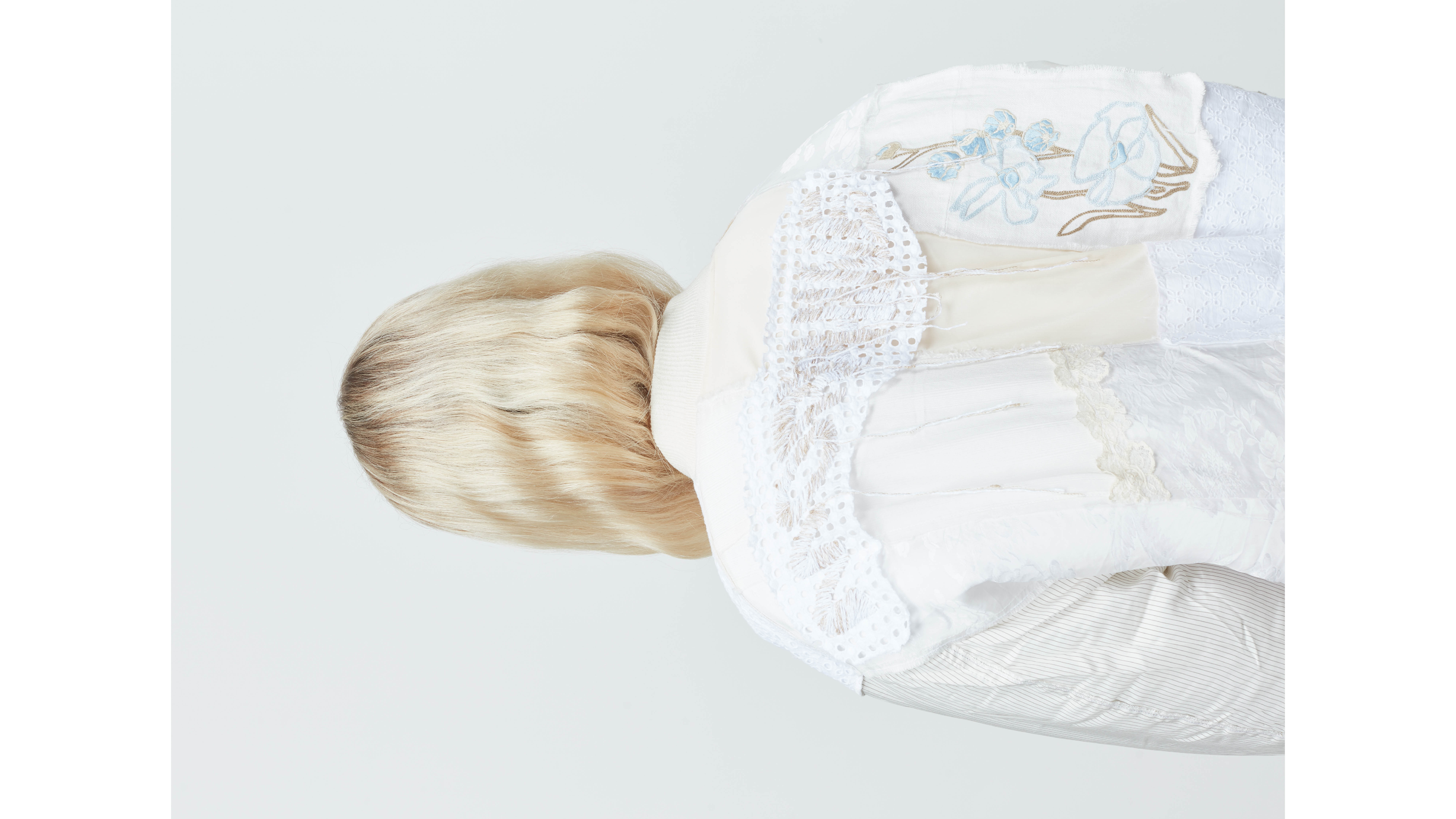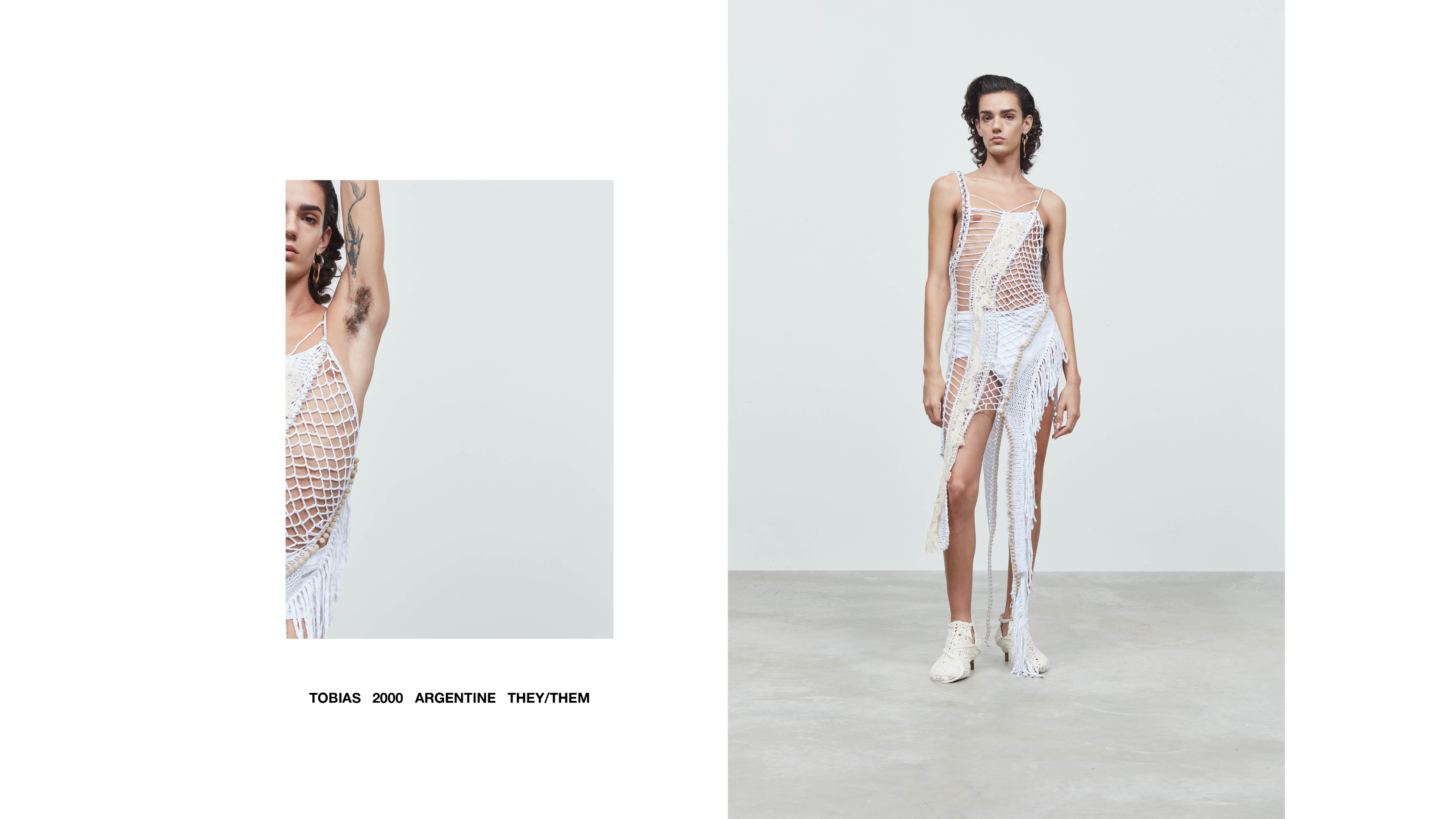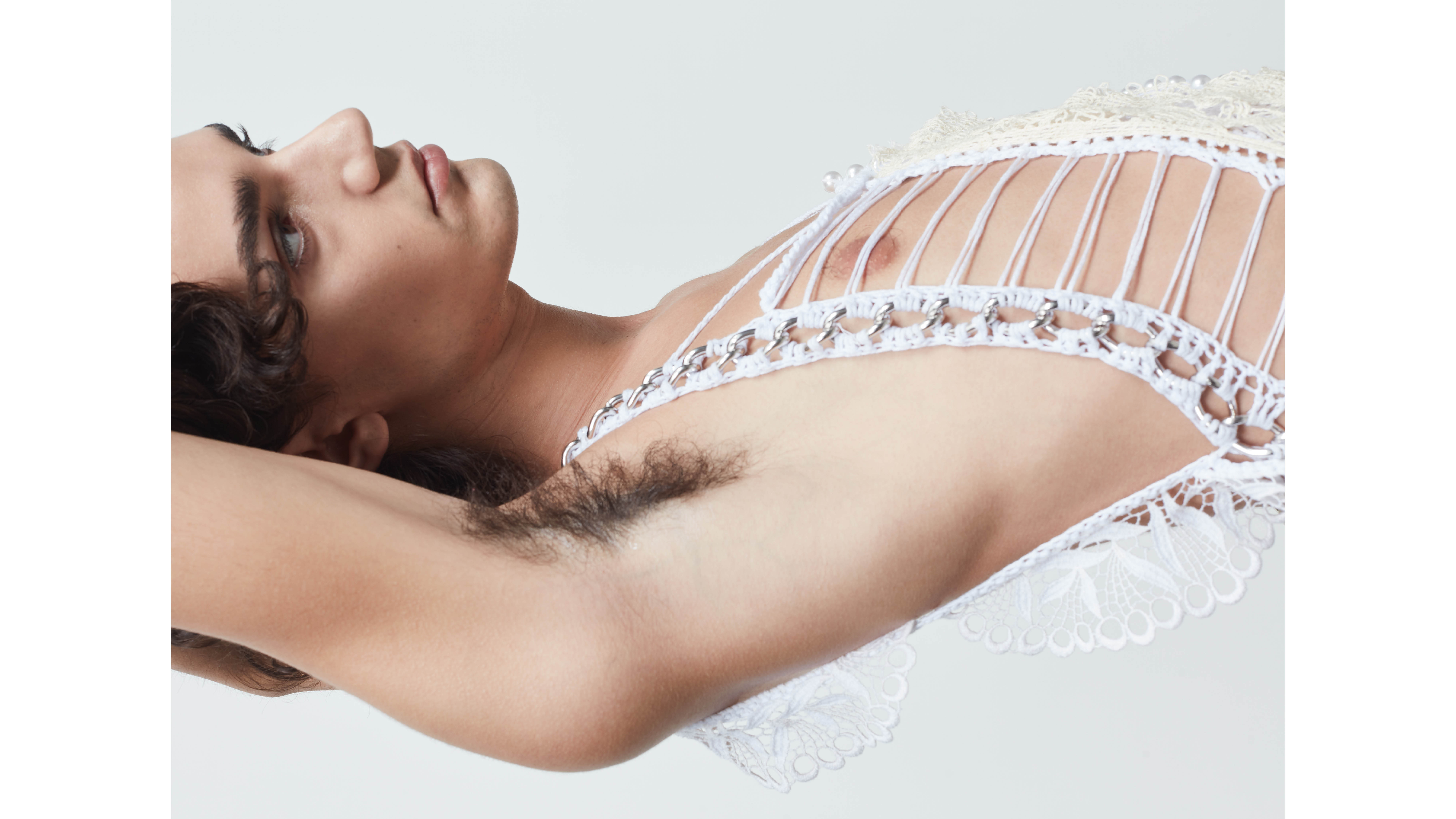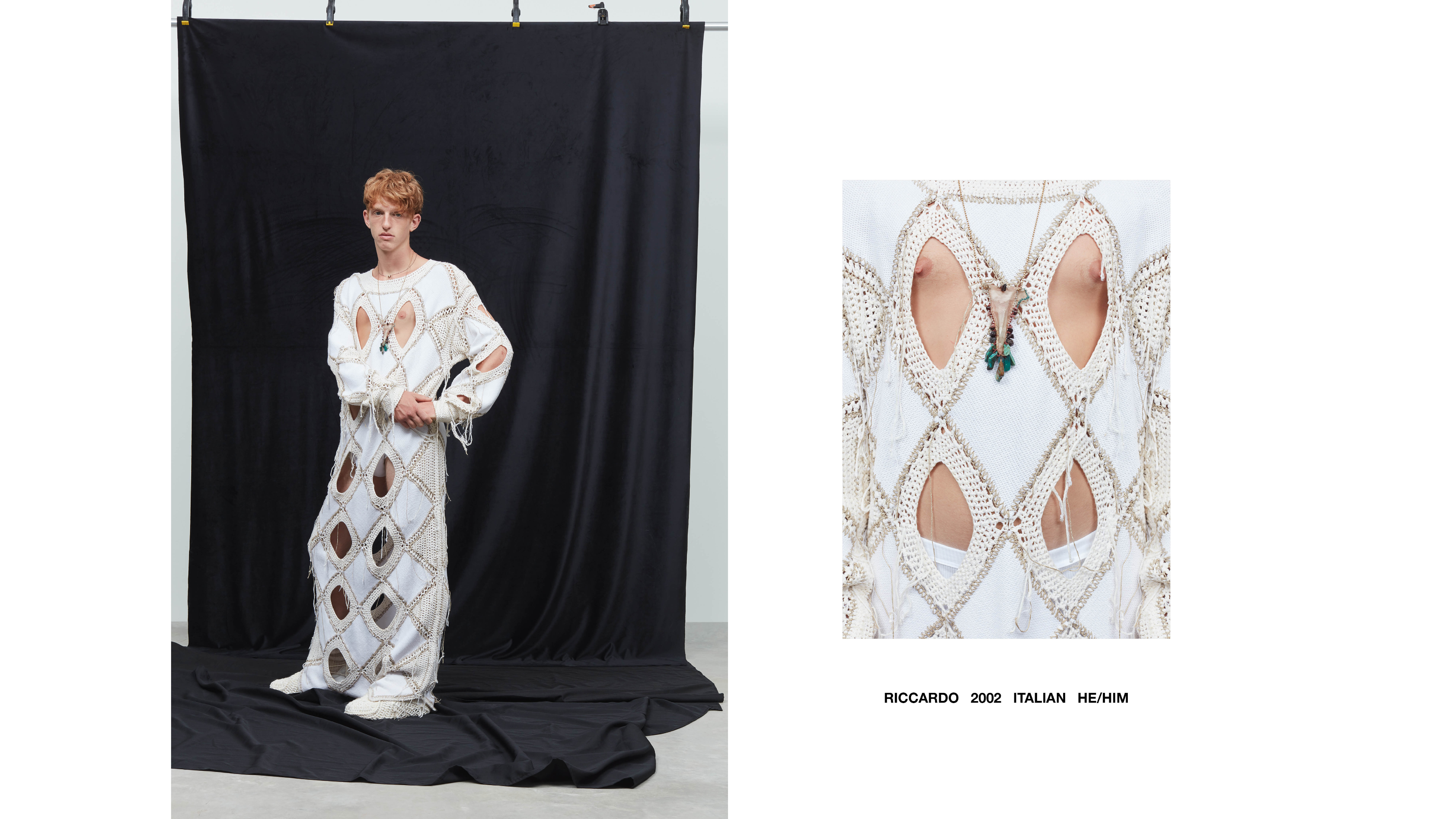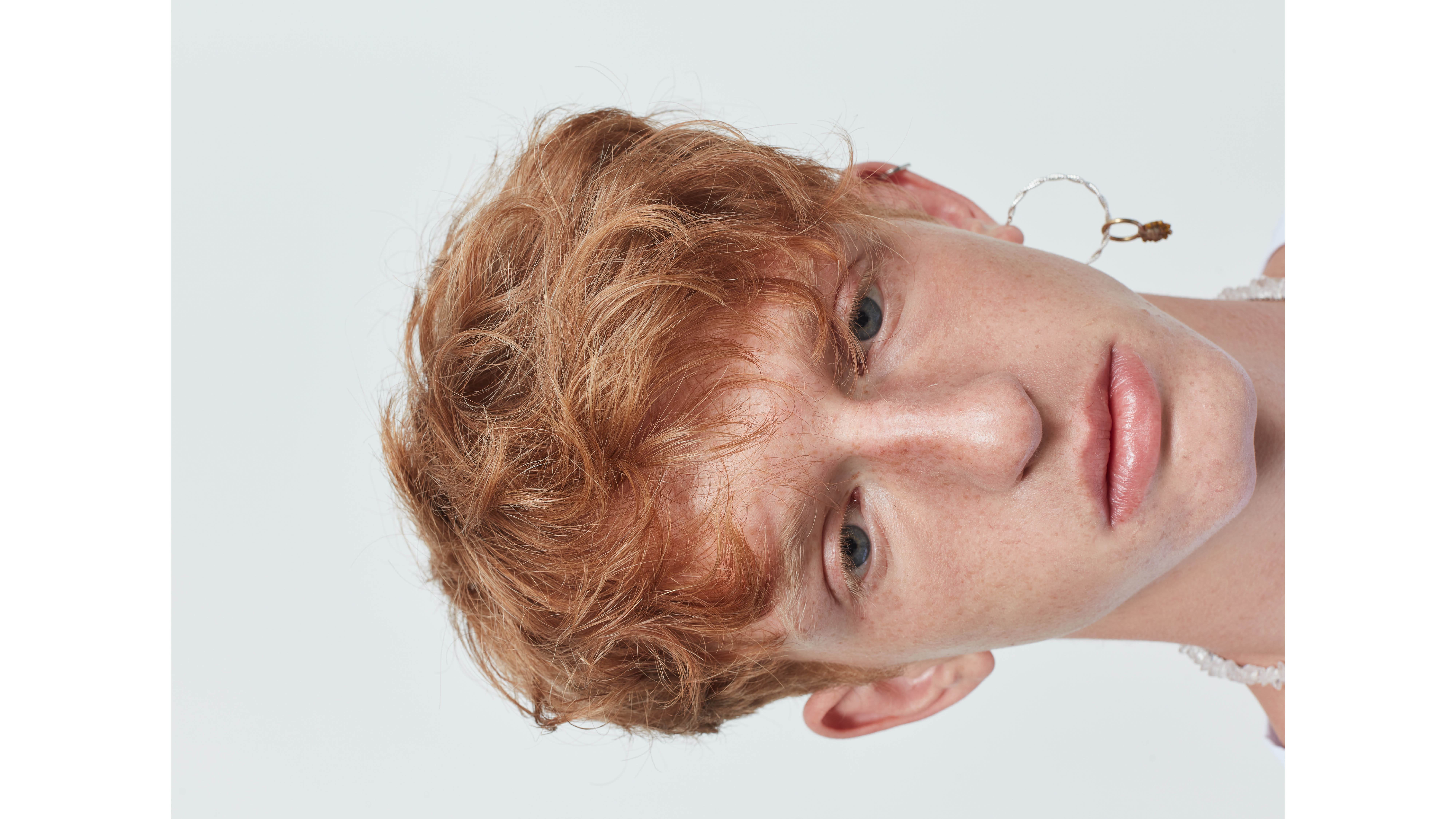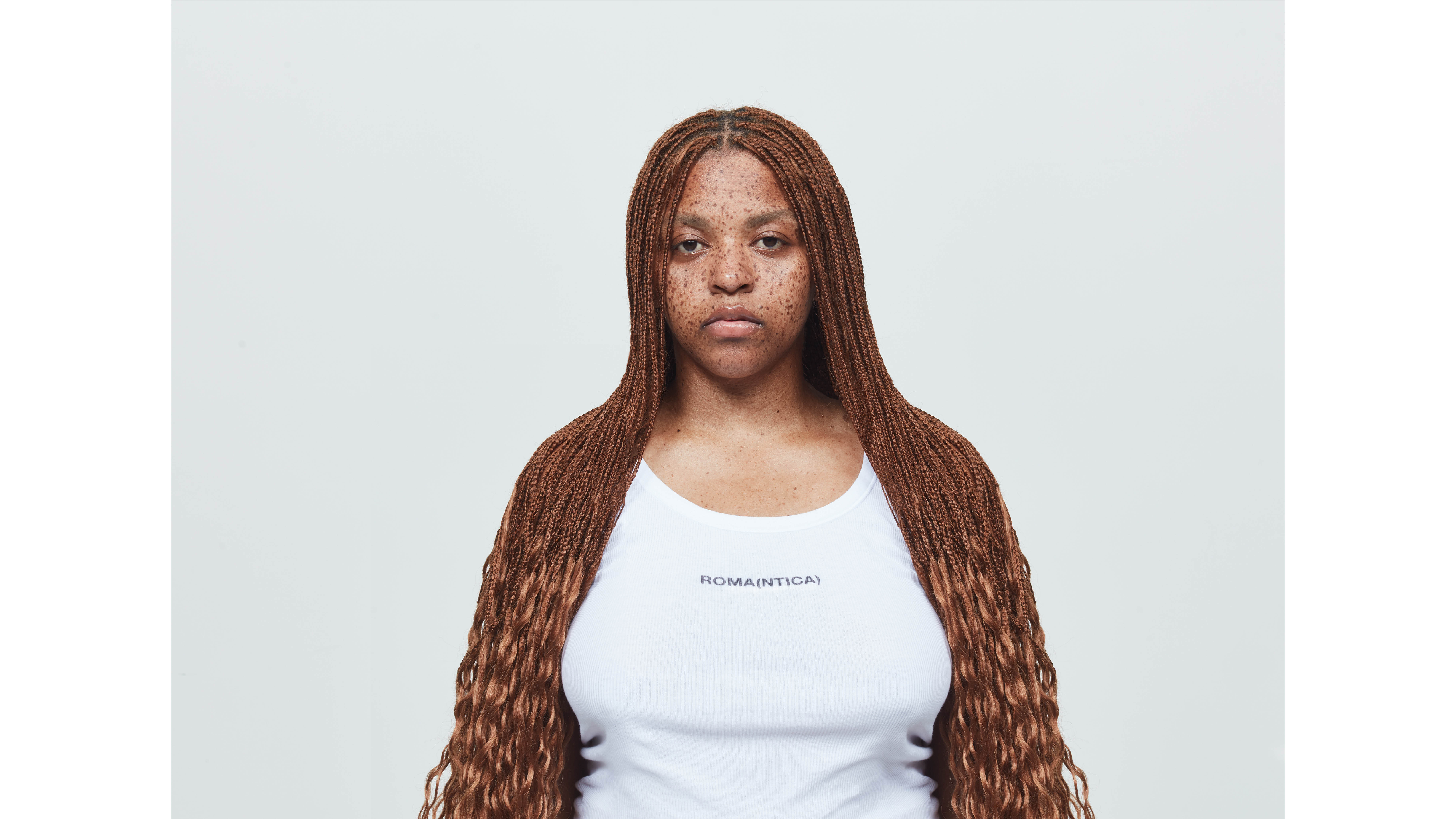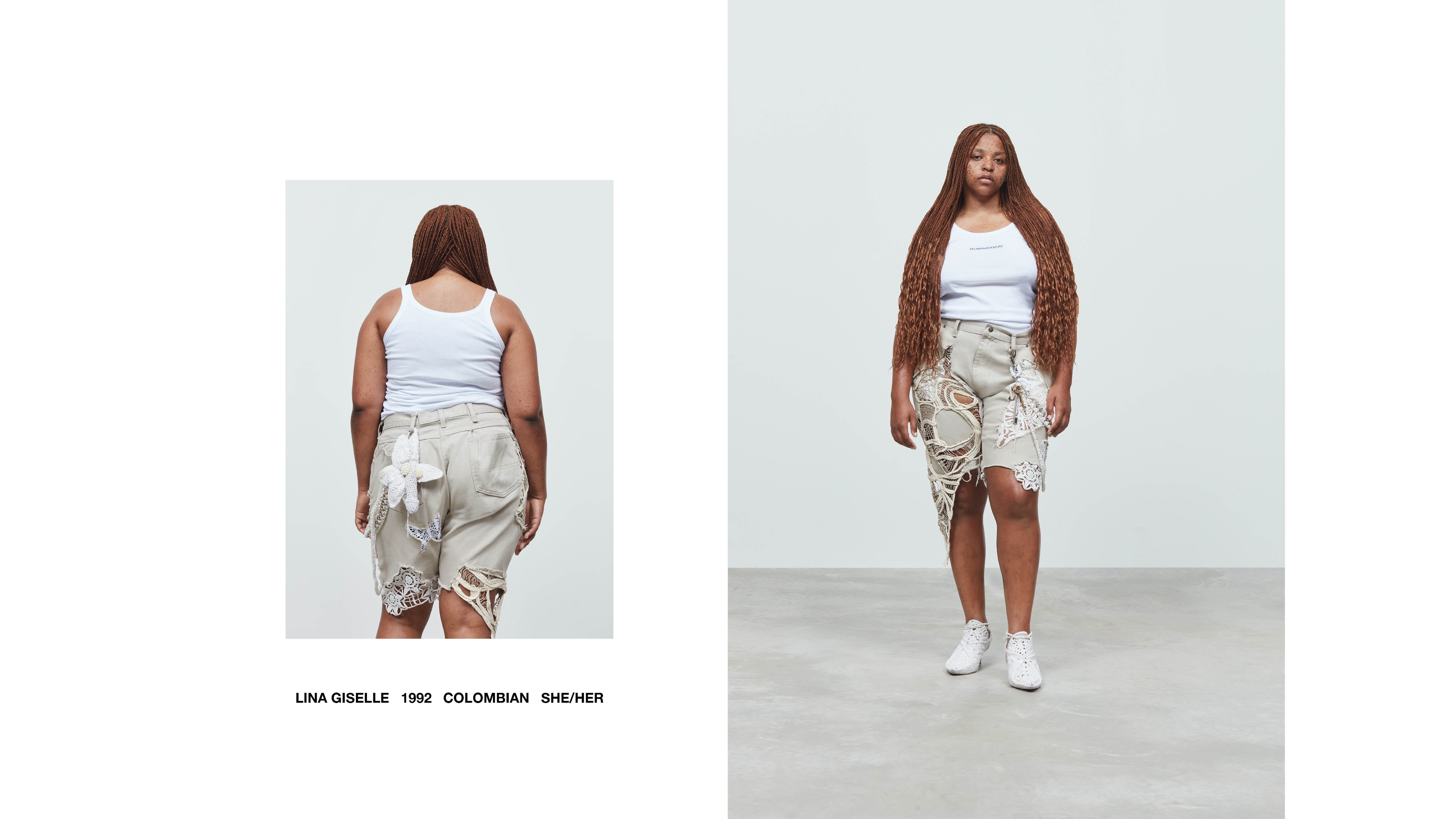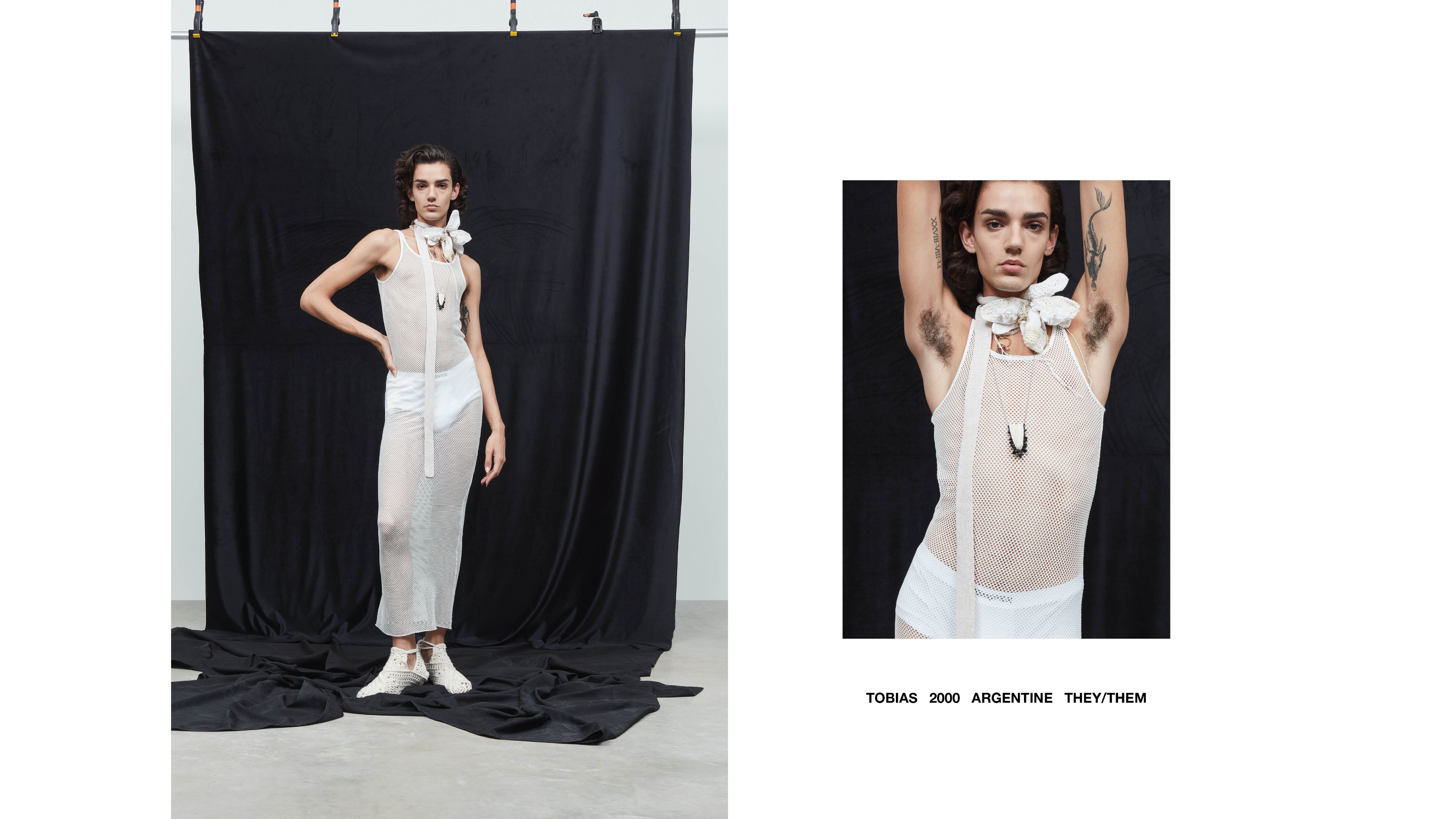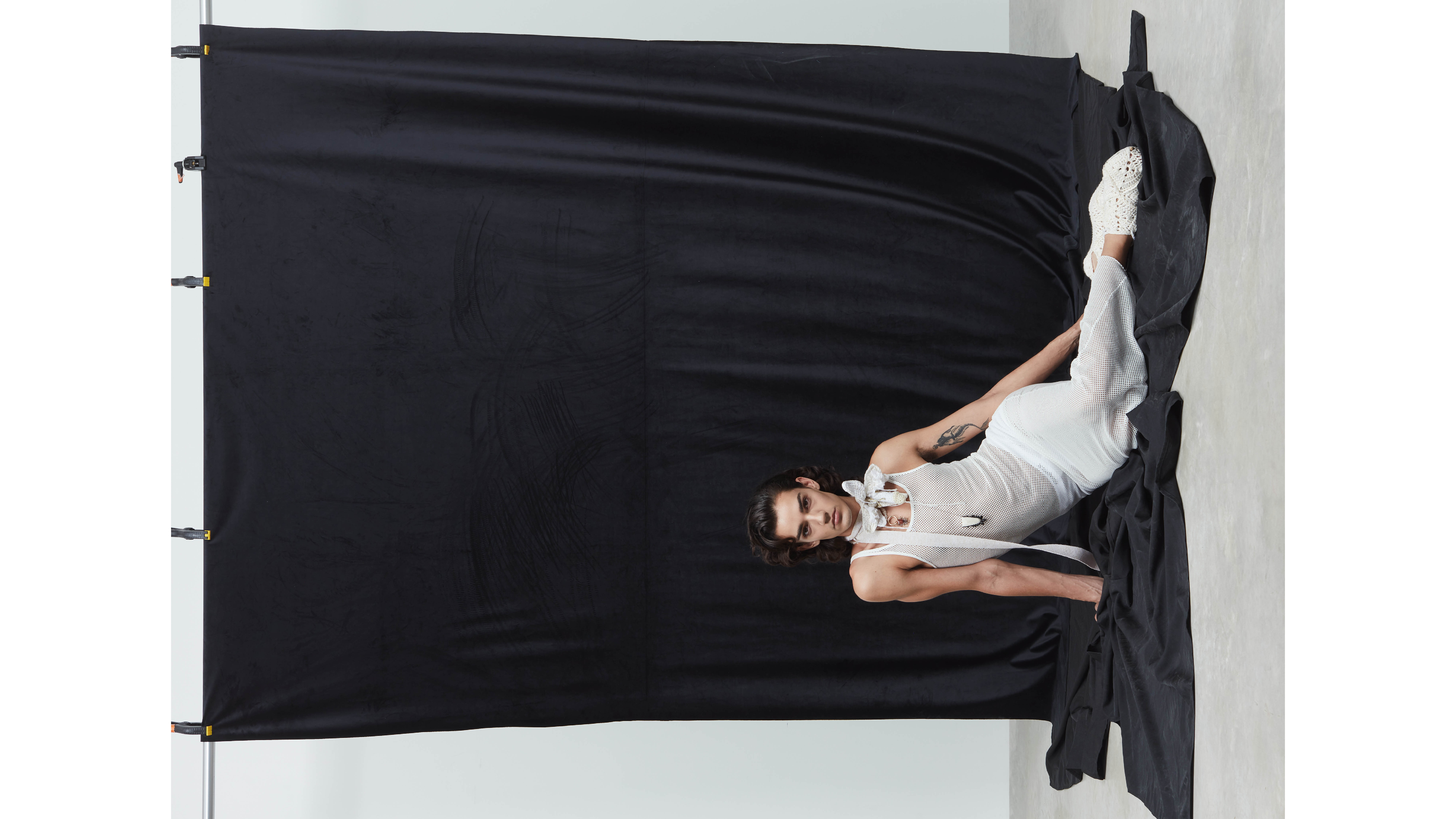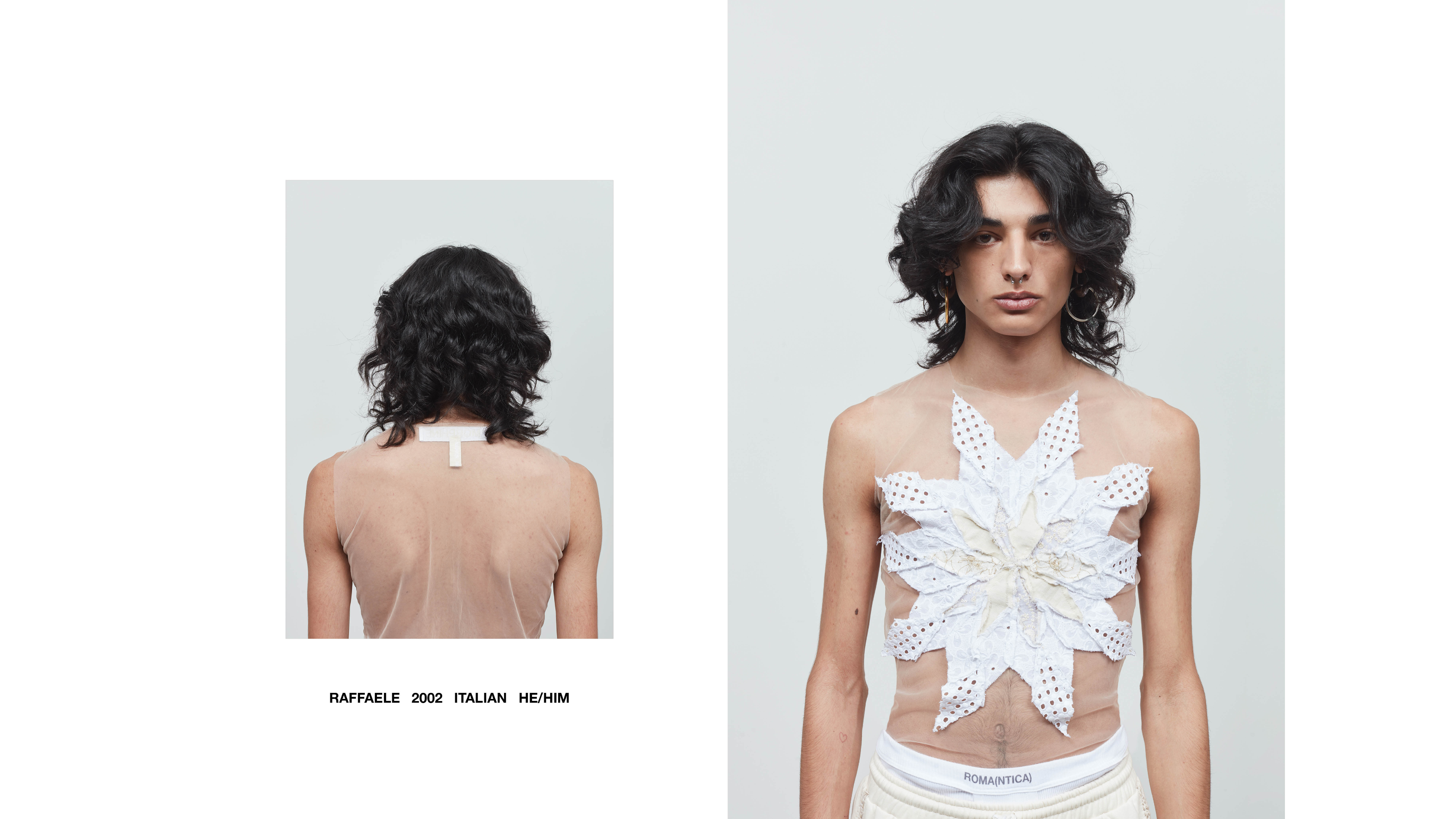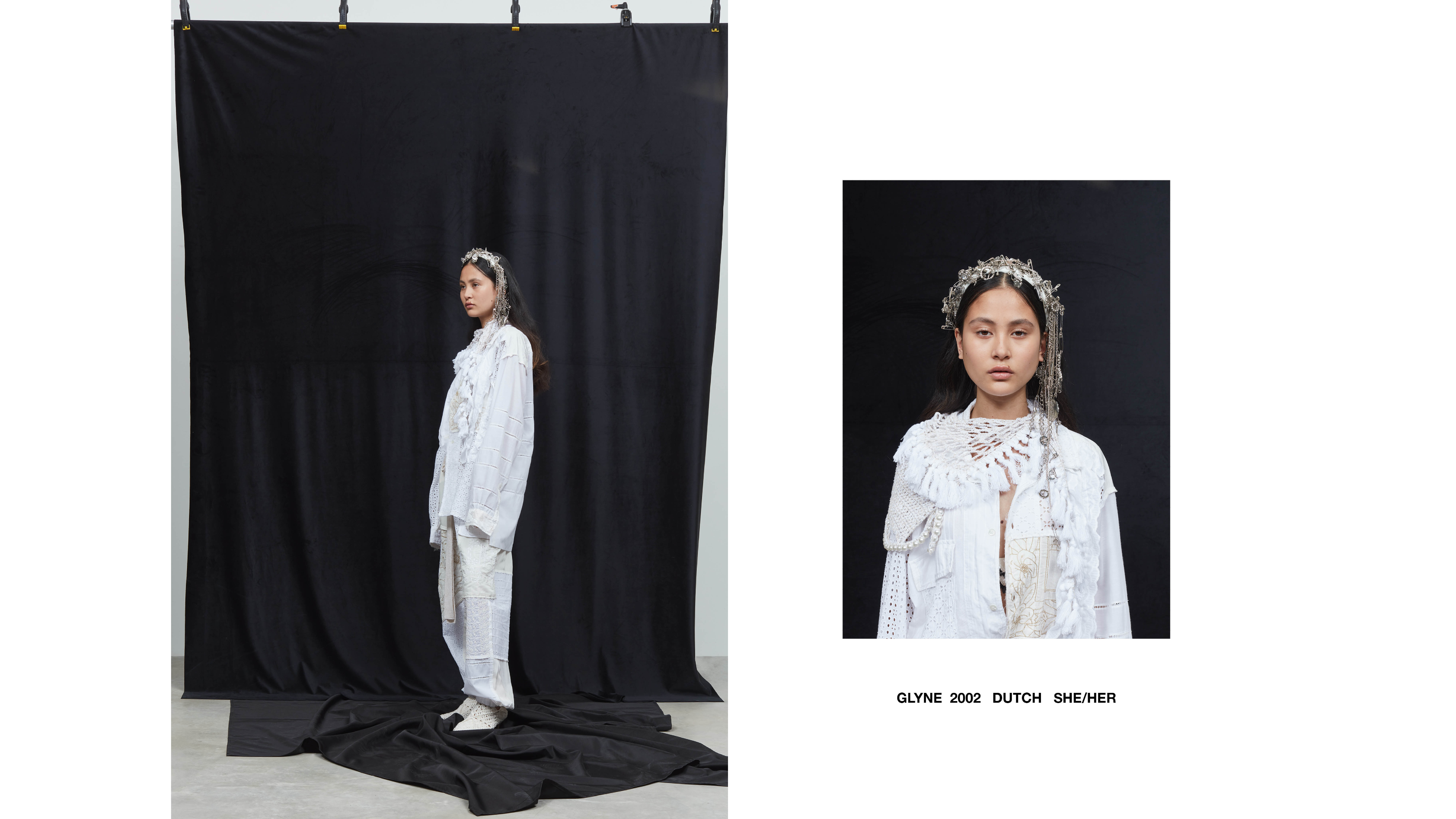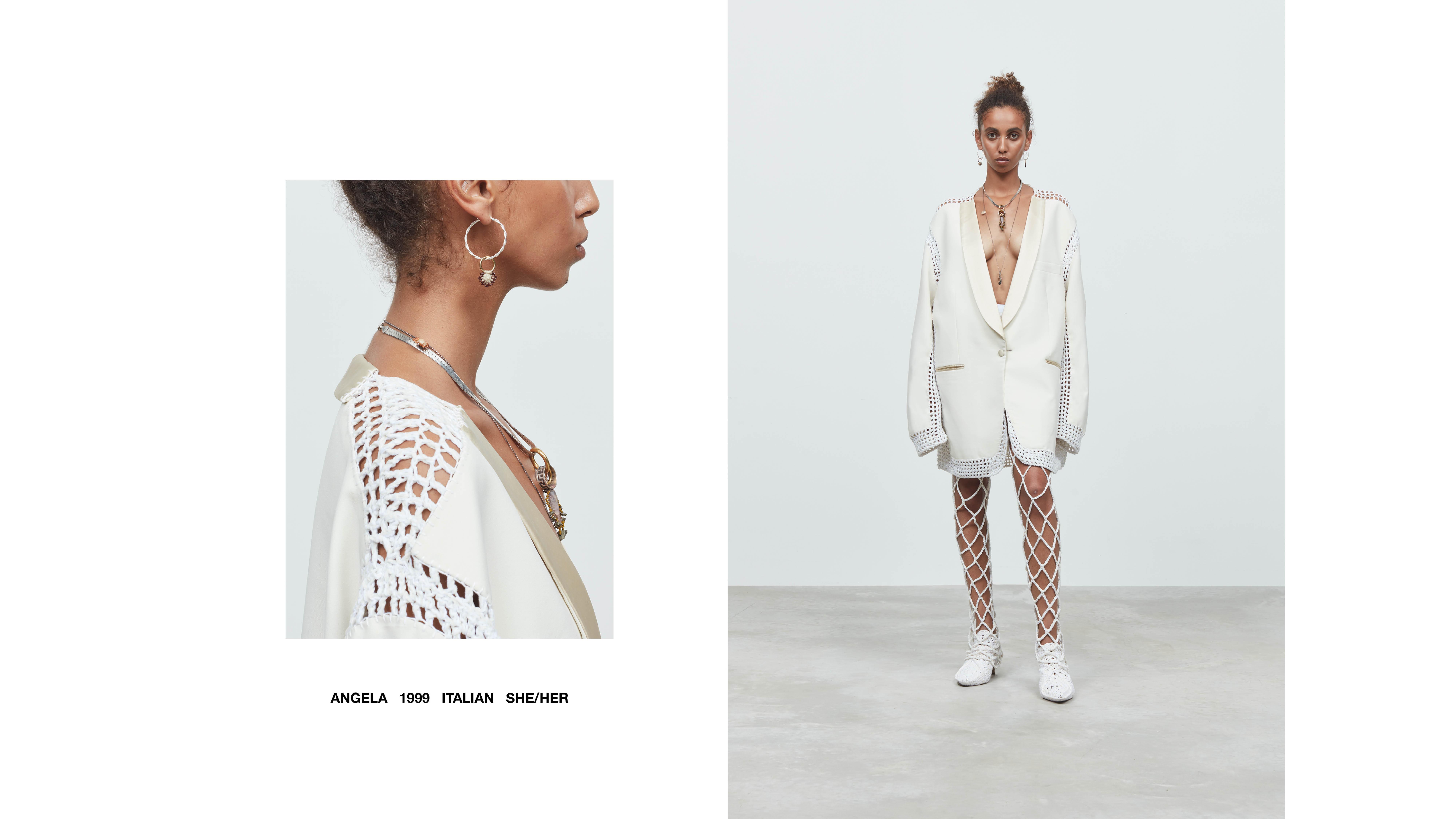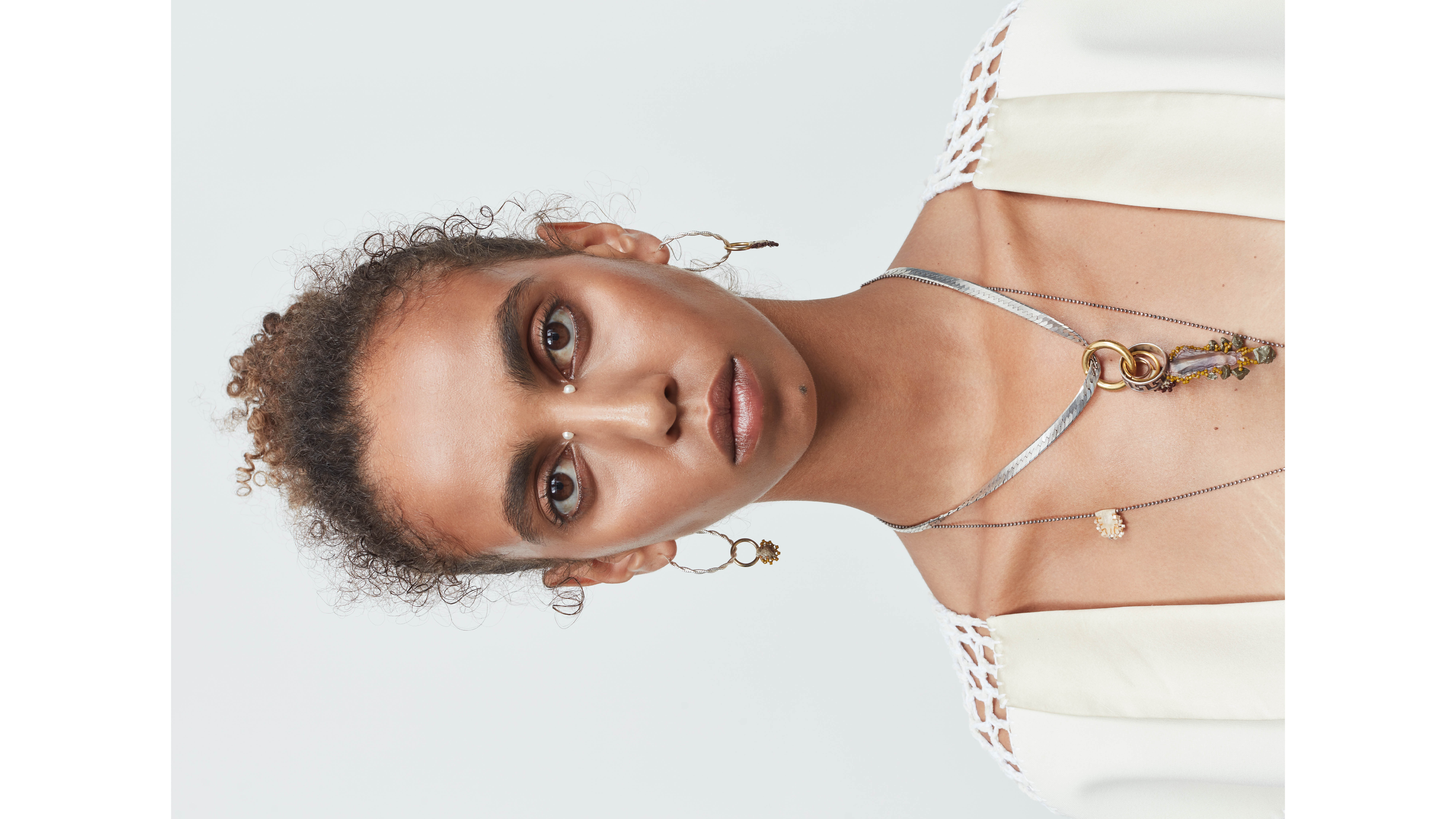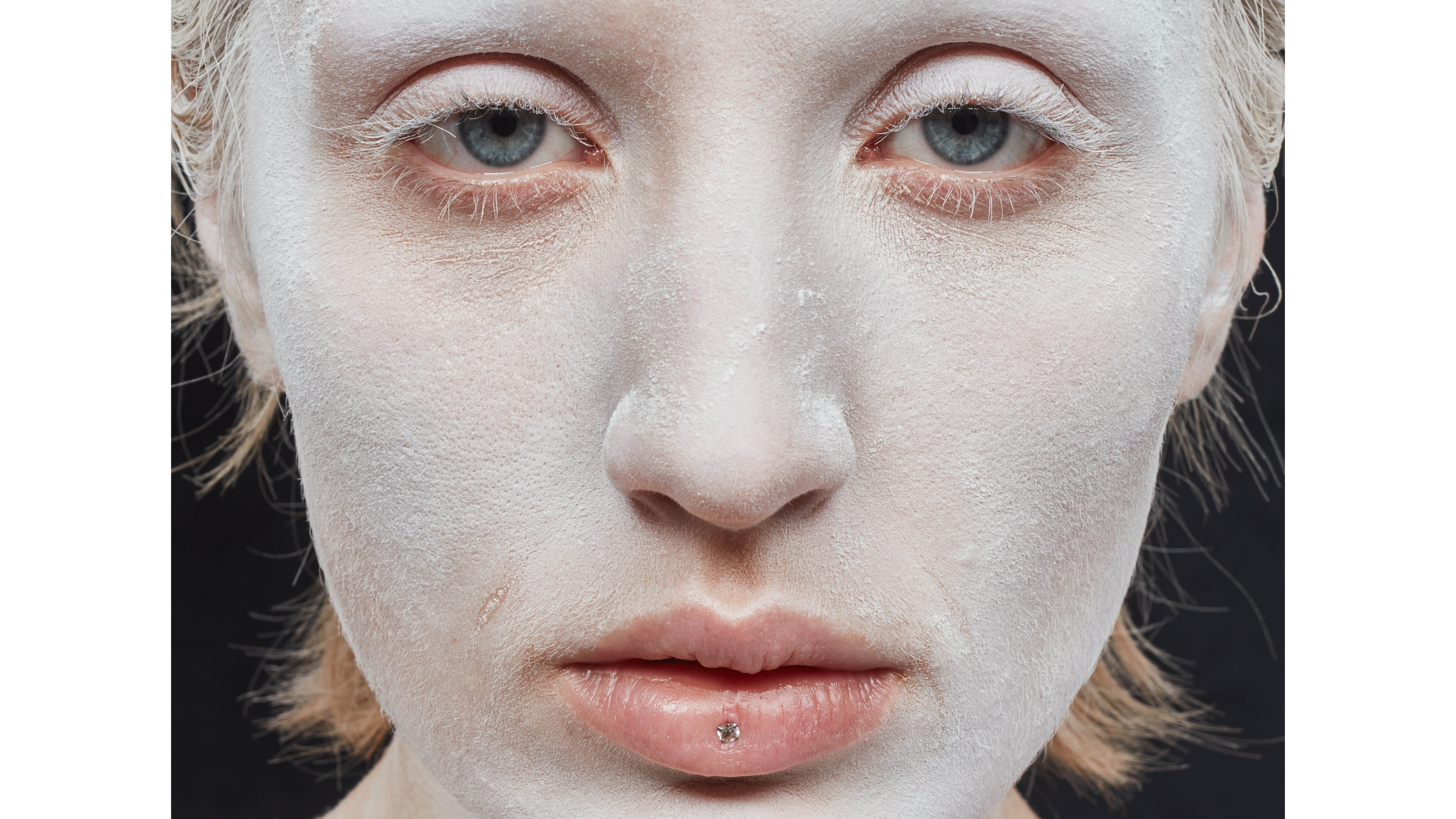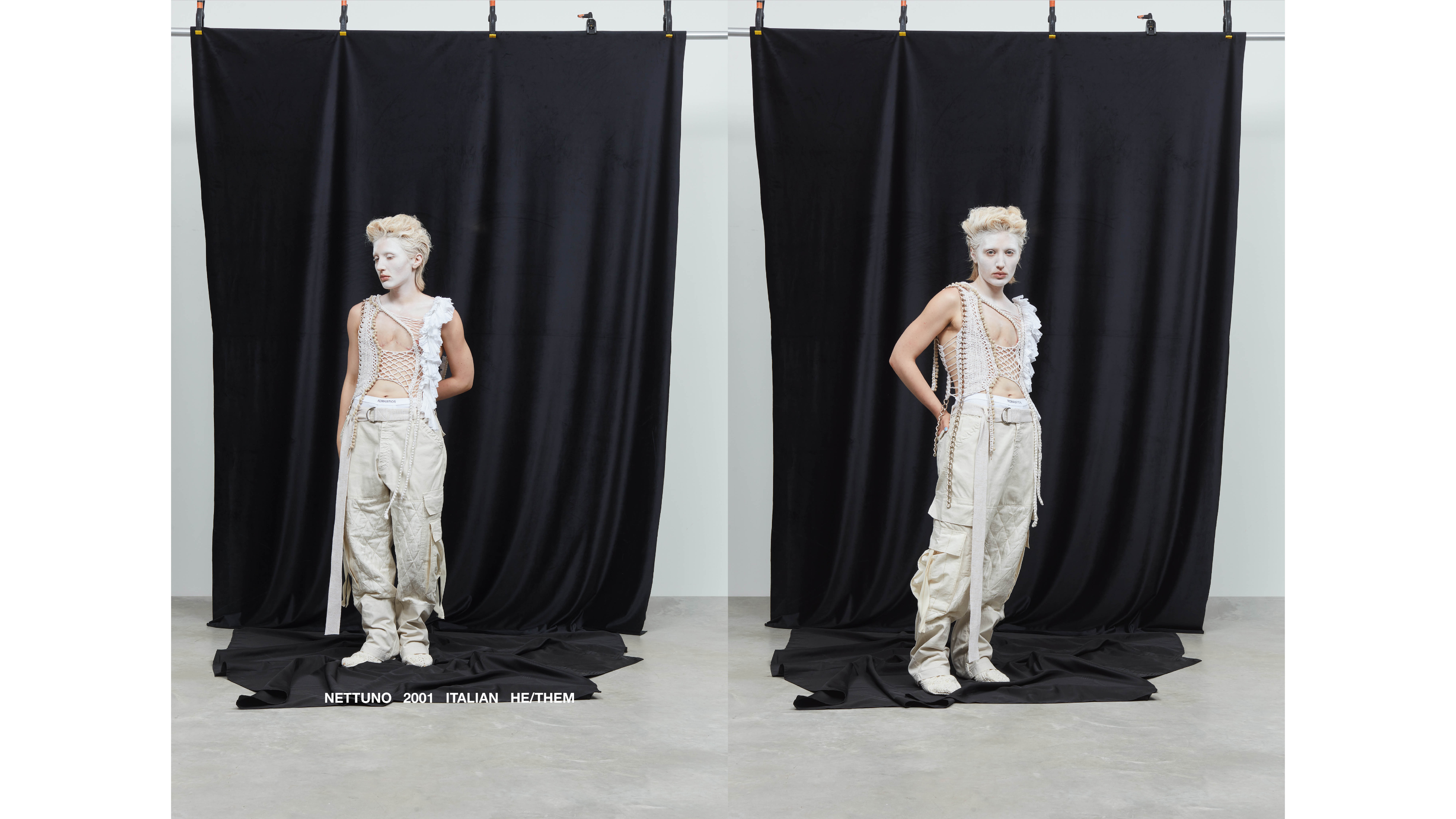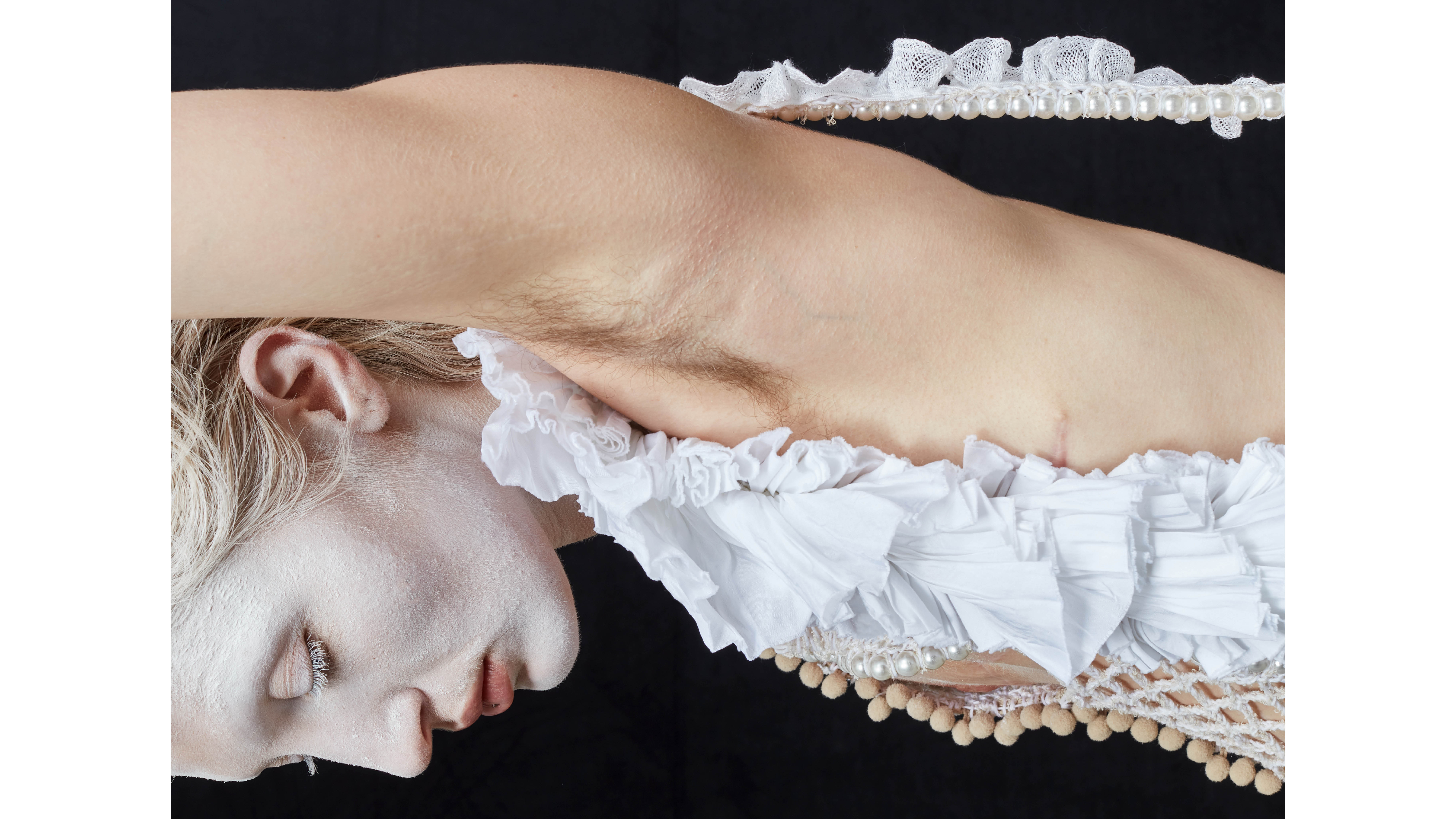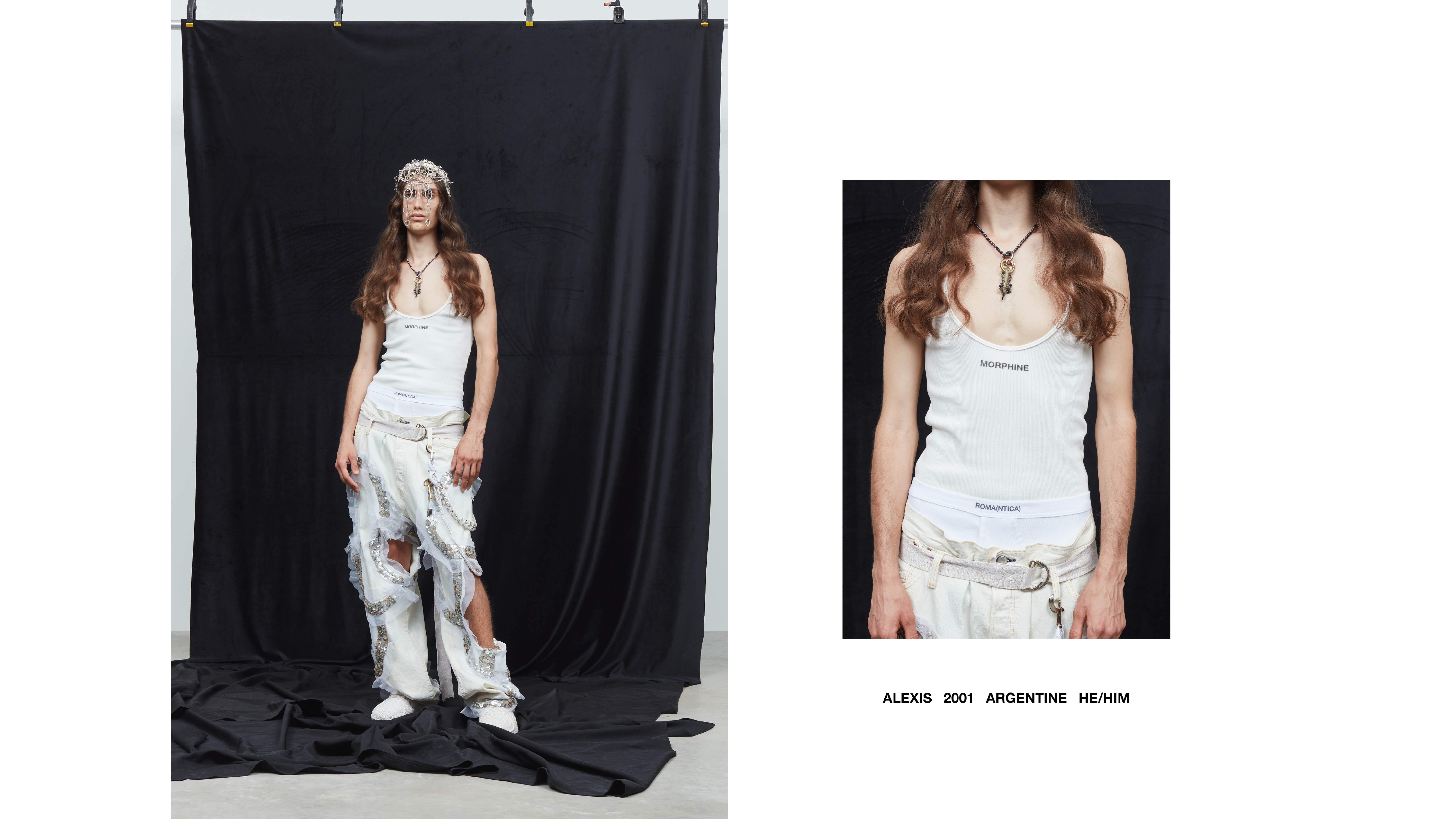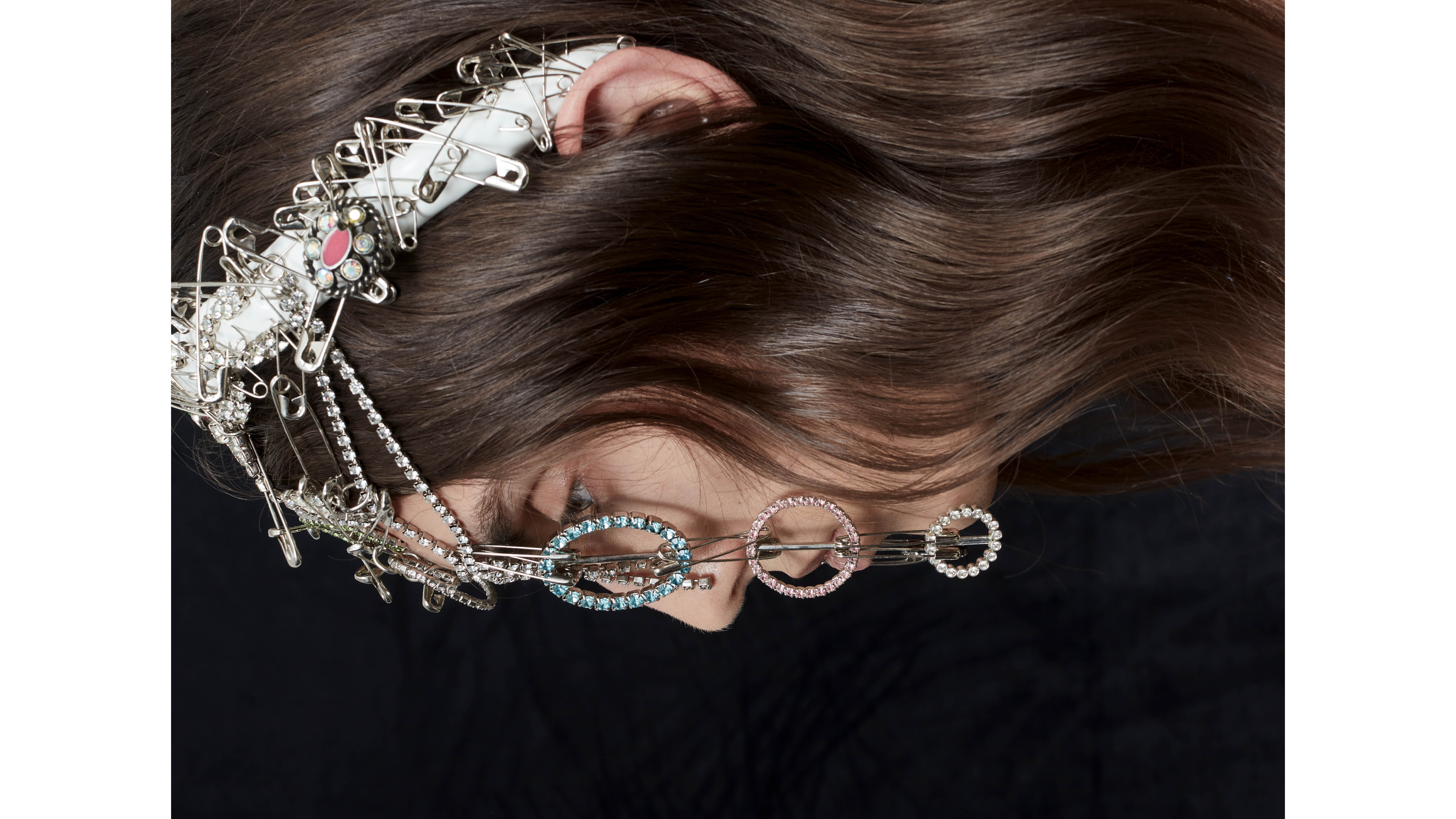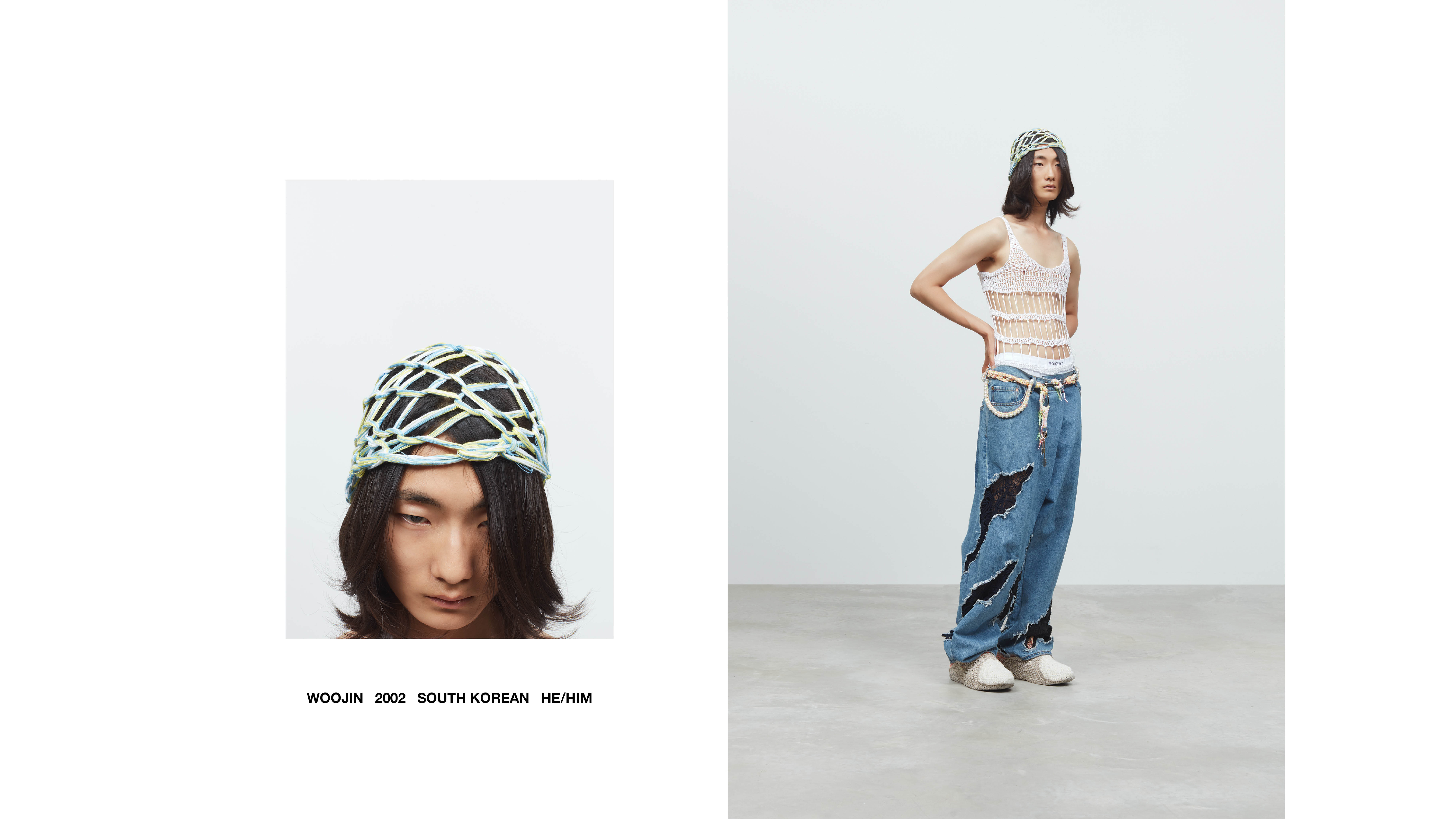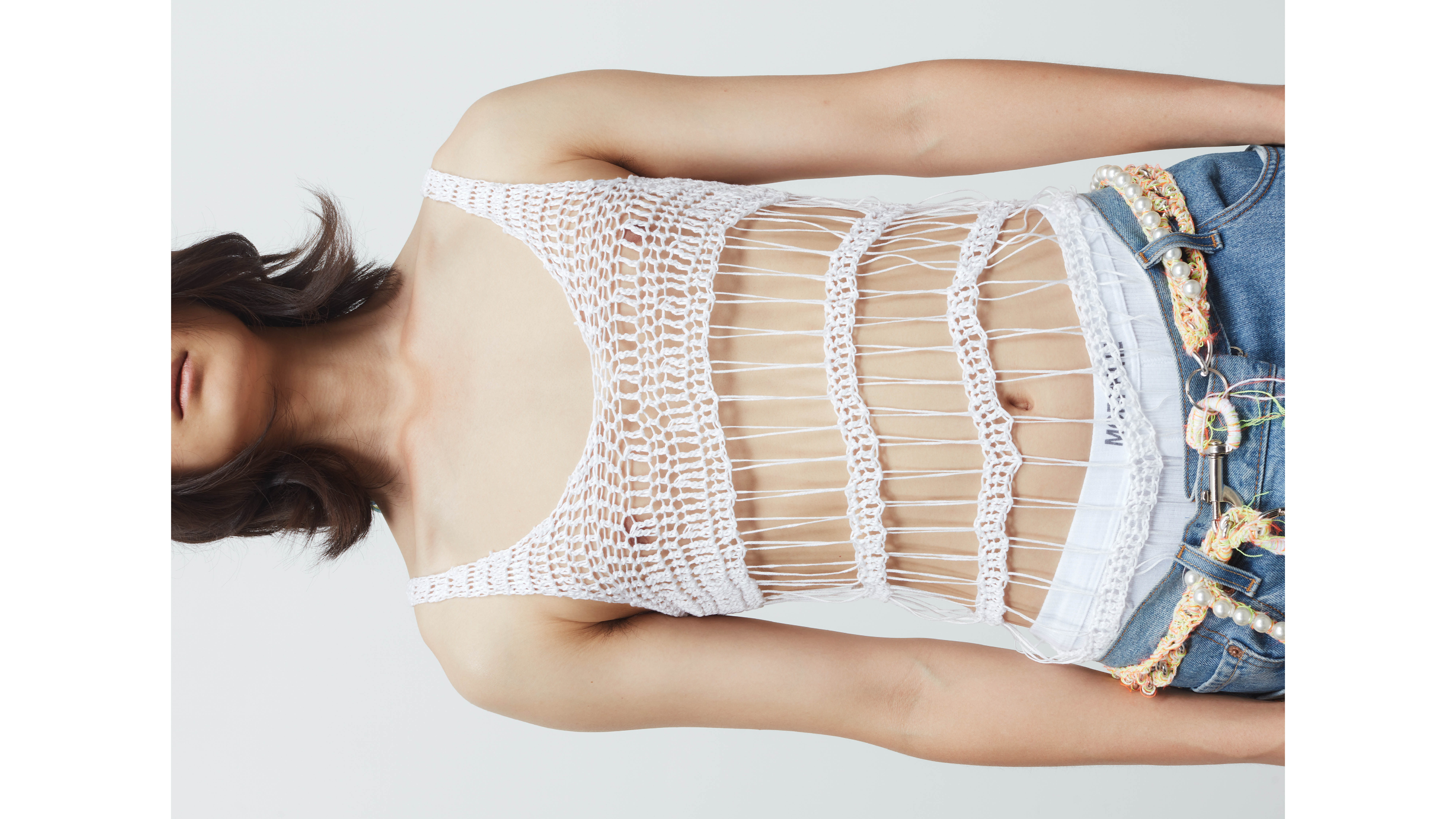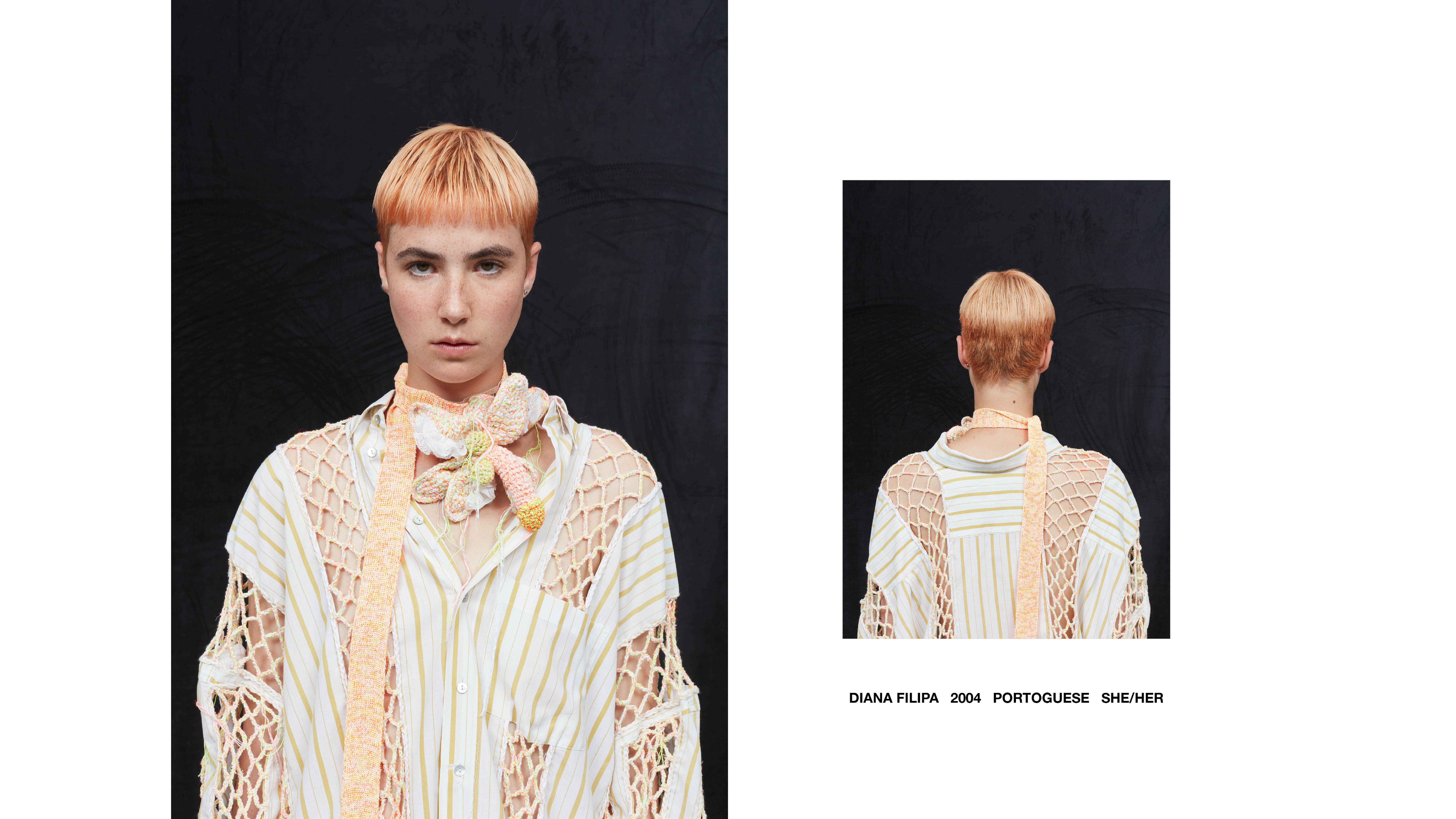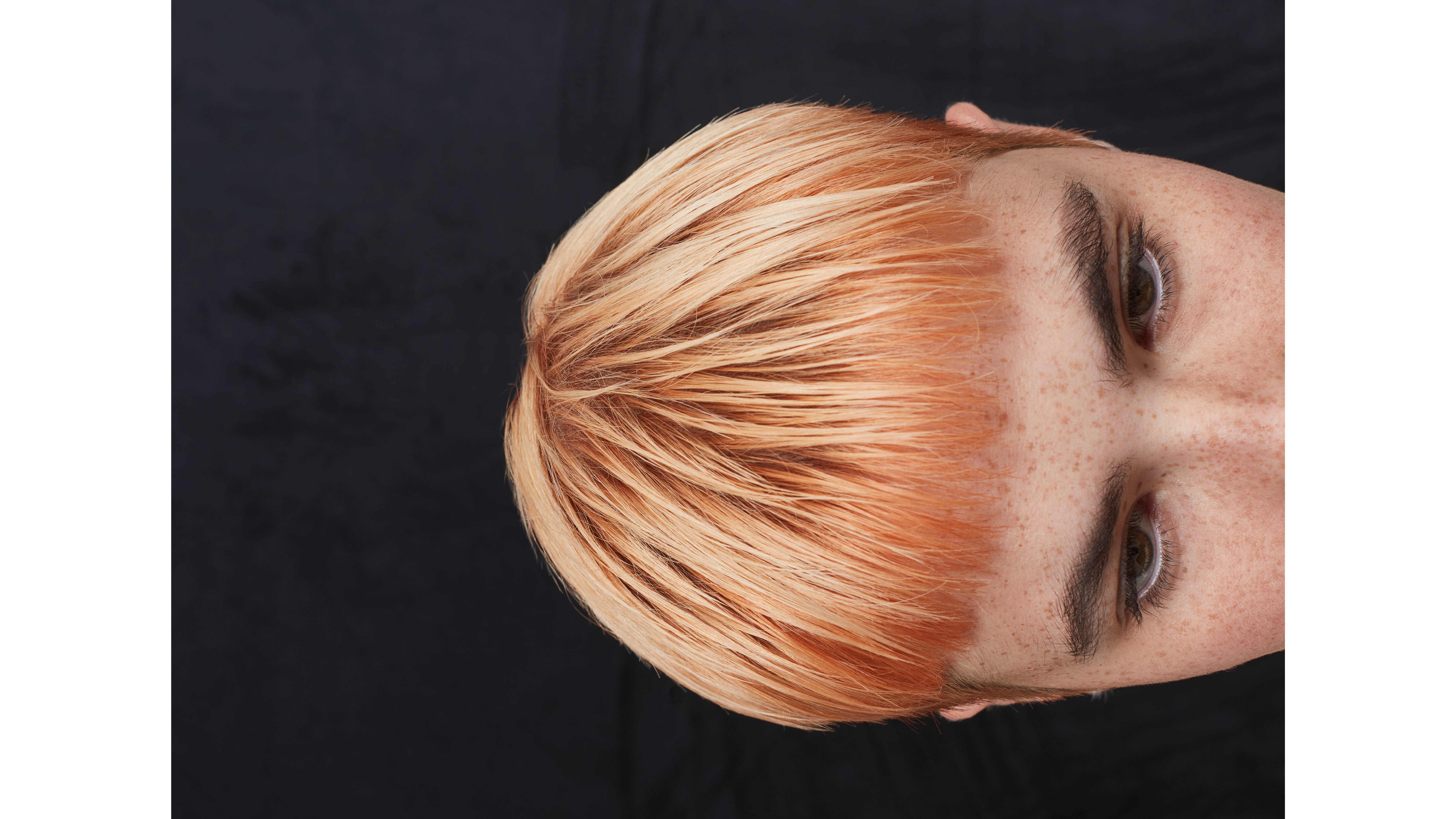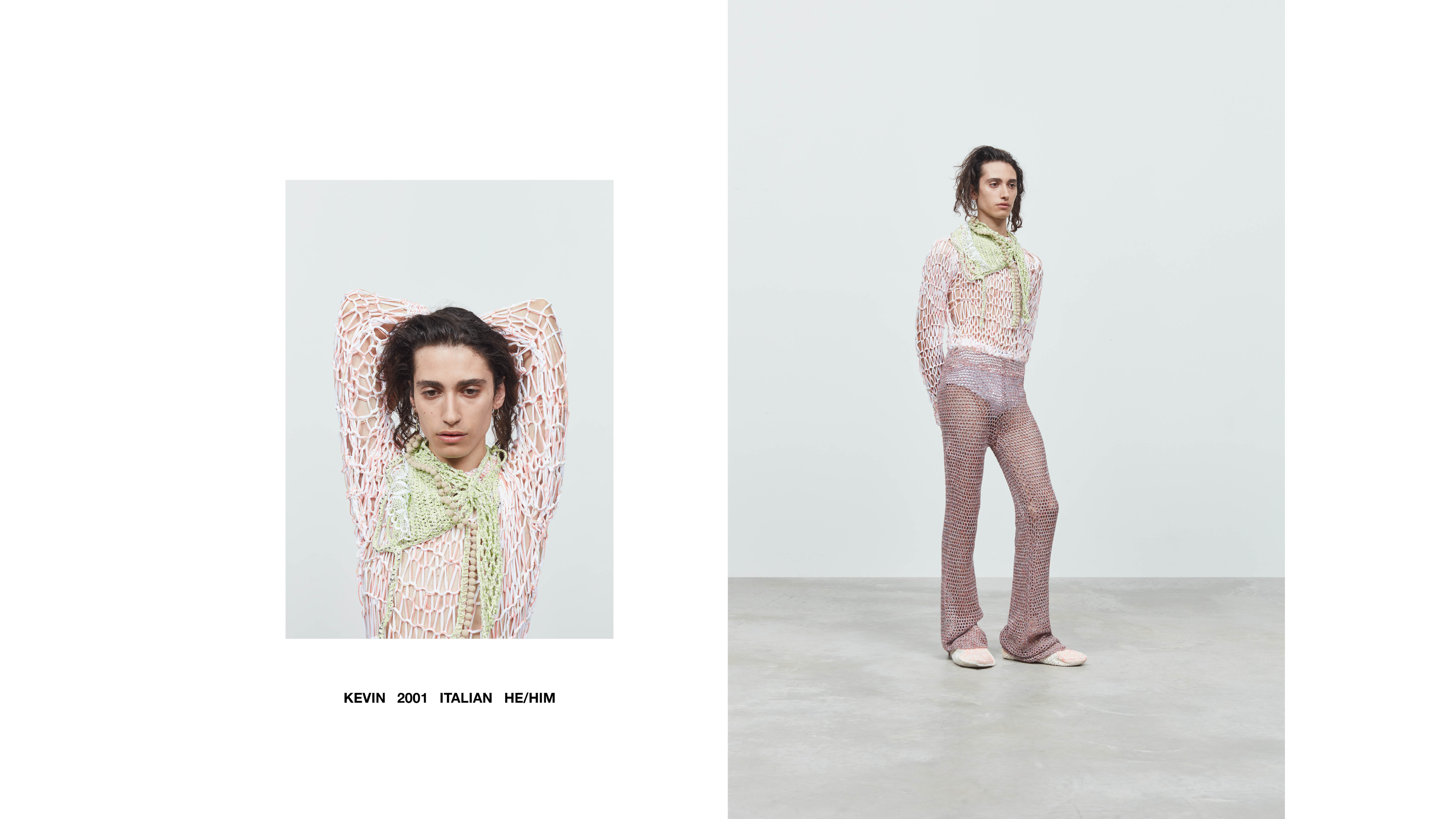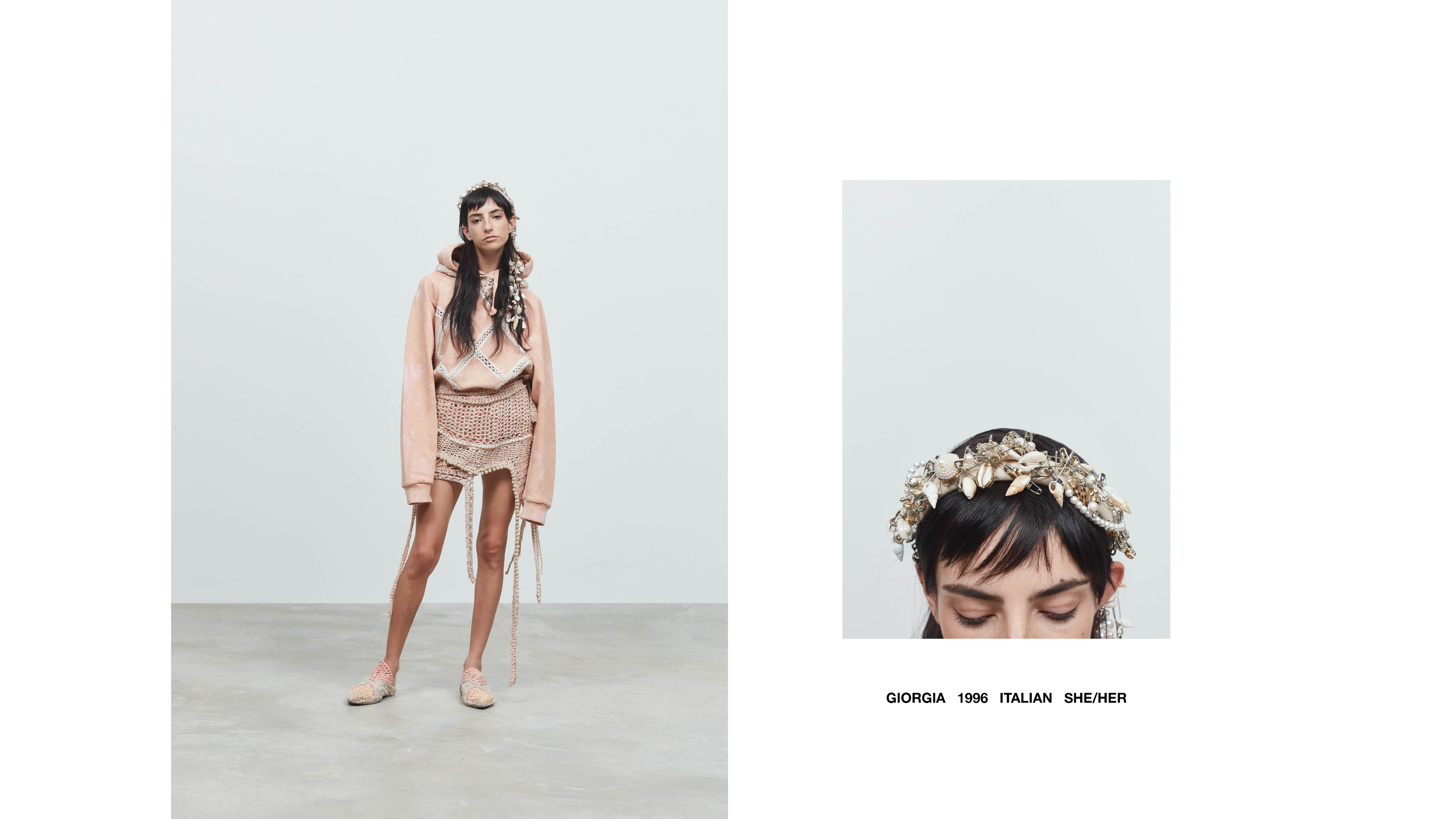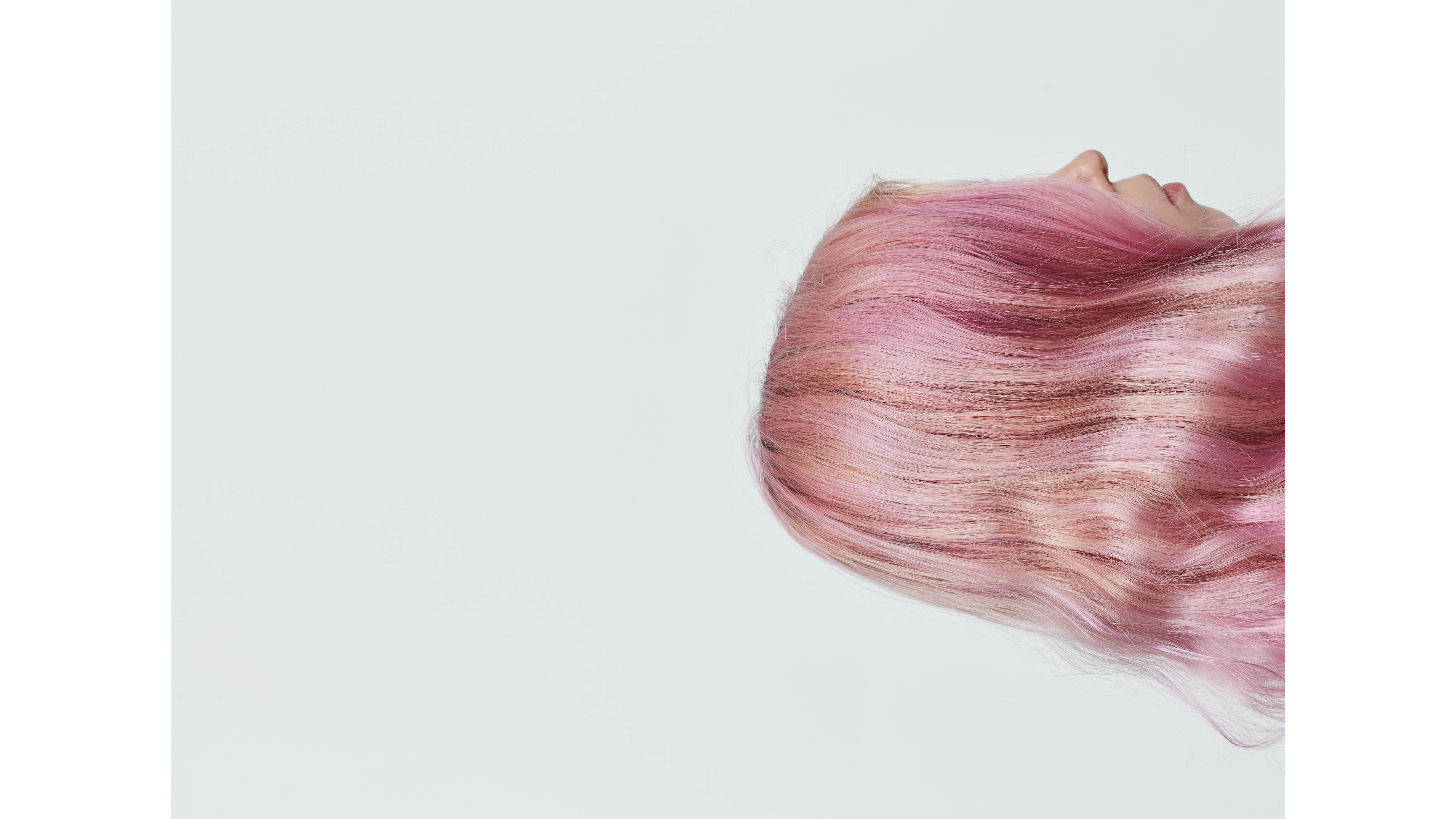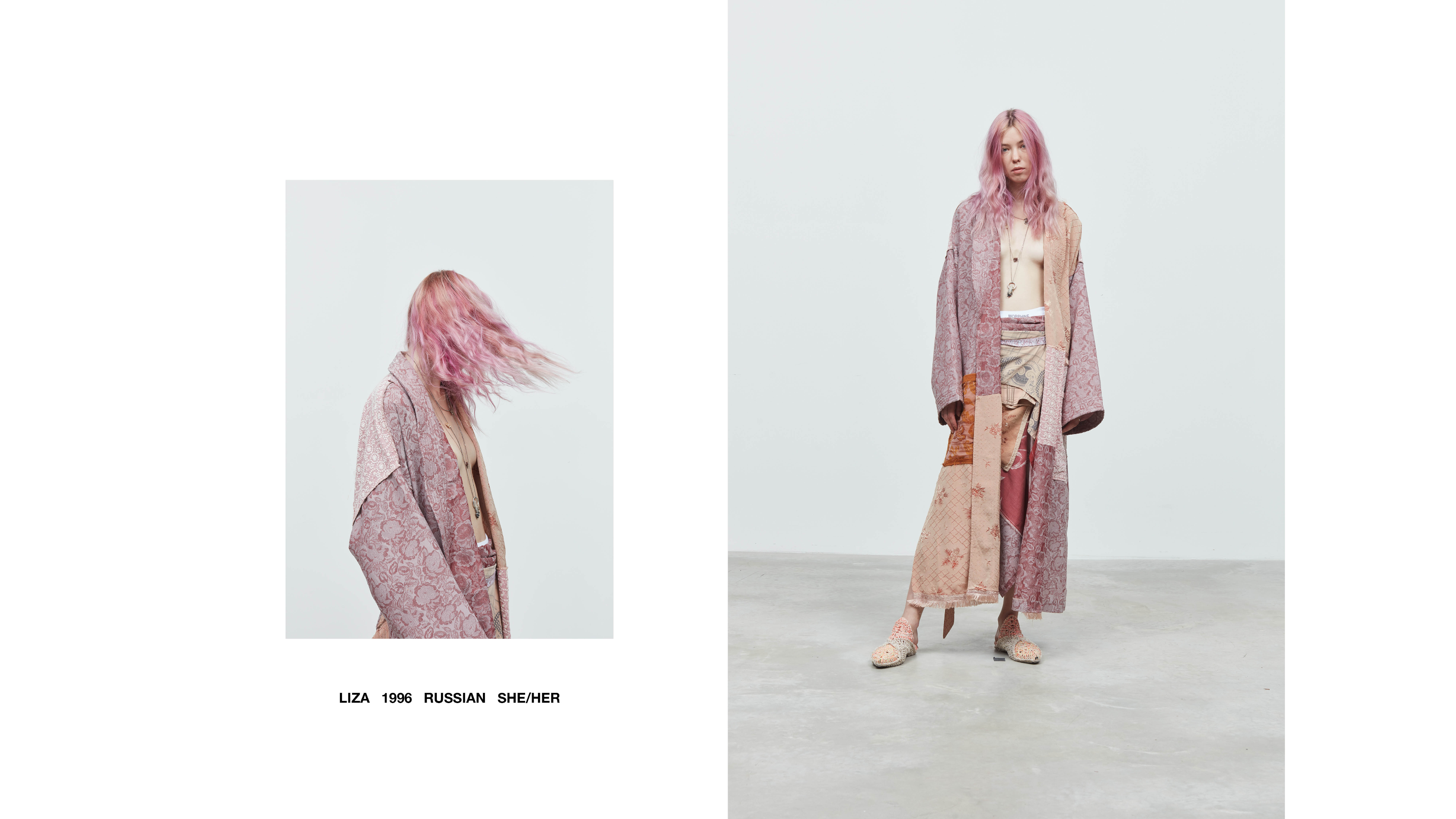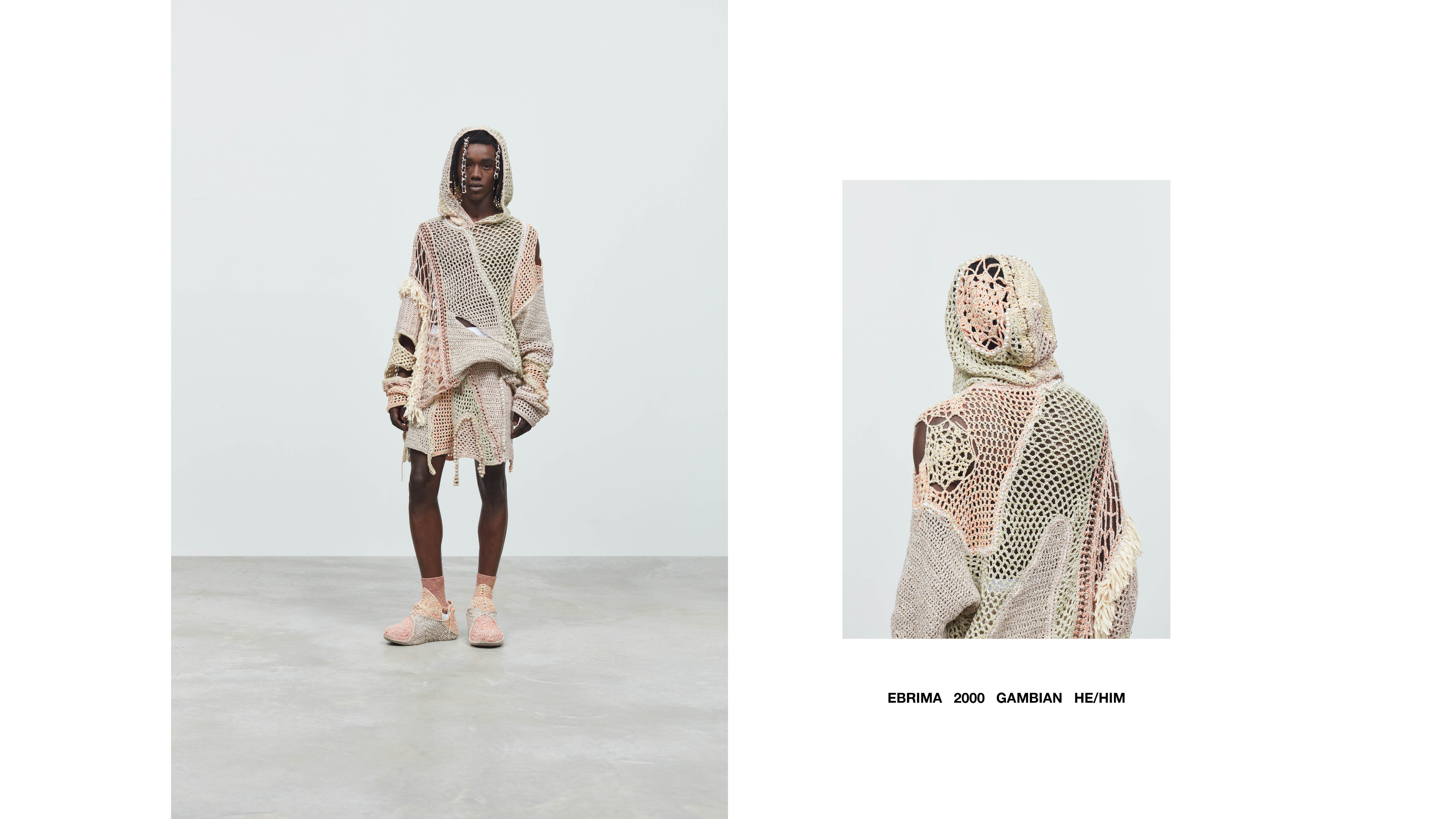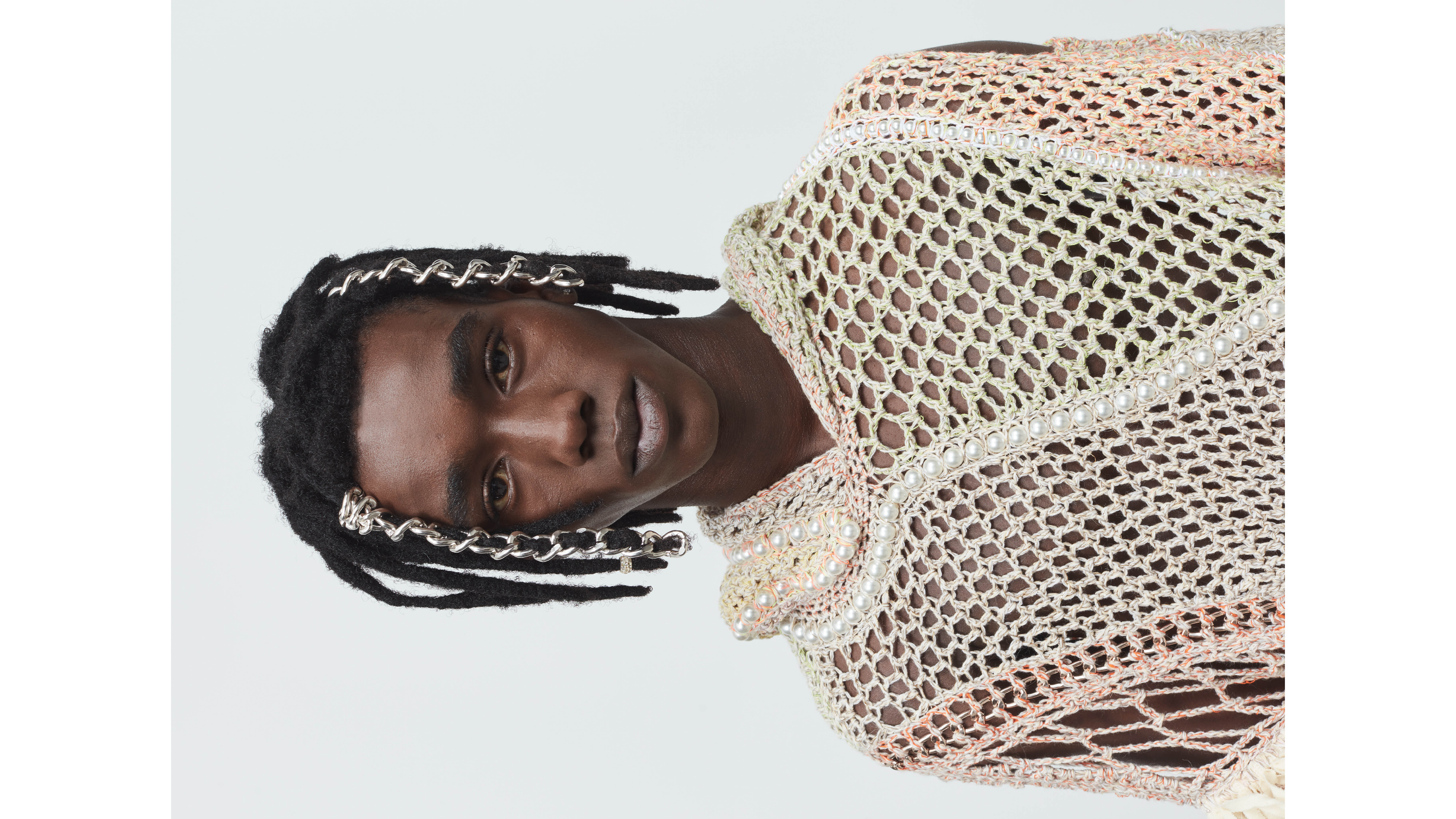 The body is caressed by skintight shapes, revealed by the open weave of crochet, glorified by short hems, trains, drapes. Even when covered, it is an energetic presence that's clearly felt. The looks are tactile and crafty: crocheted dresses, cut out jackets and shirts with crochet inserts, crocheted cargo pants, sweatshirts and knits, t-shirts, customized jeans. Decoration adds another layer of individuality, like an act of impromptu customization: crocheted phallic flowers, chains and strings mixing crochet and pearls and closed with carabiners, crochet foulards. Even shoes, either stilettos or trainers, are covered in crochet. Hats created with Gianluca Persia and jewels assembled by Vanessa and Kira Lillie extend the visual and tactile richness of the compendium.
COMMUNE
THE COMPENDIUM SEEN BY LAVINIA
The chromatic flow explores the shades of cream and white of ancient Roman marbles, lit with sudden peaks of fluorescent brights. As much as it is a conscious act, the color palette is guided by chance: it is, in fact, what deadstock offered at the moment of creating the collection. Limitation turns into opportunity, occasion into plan, while transformation comes to the fore as the essence of MORPHINE.
BEHIND THE COMPENDIUM:
THE PROCESS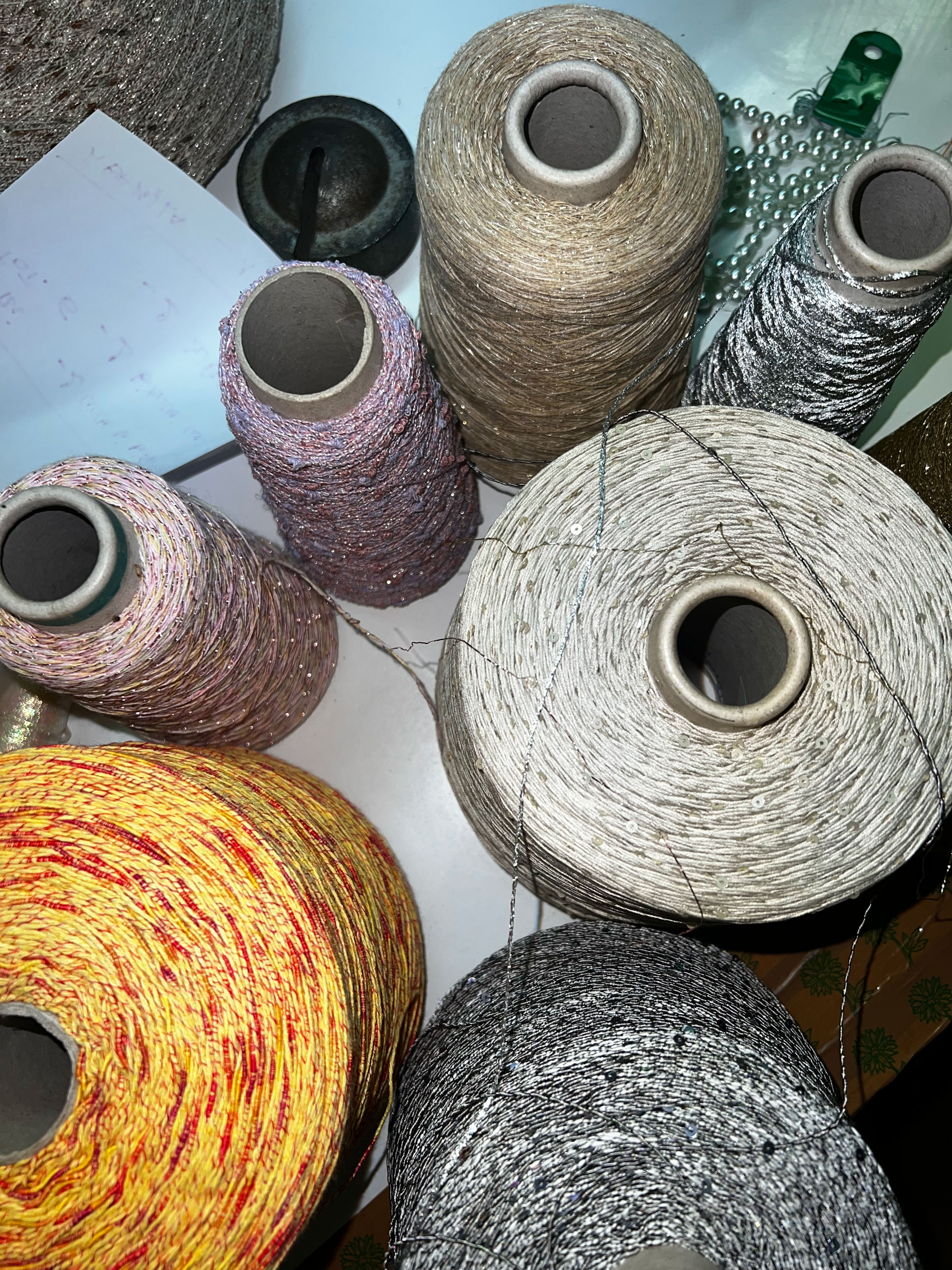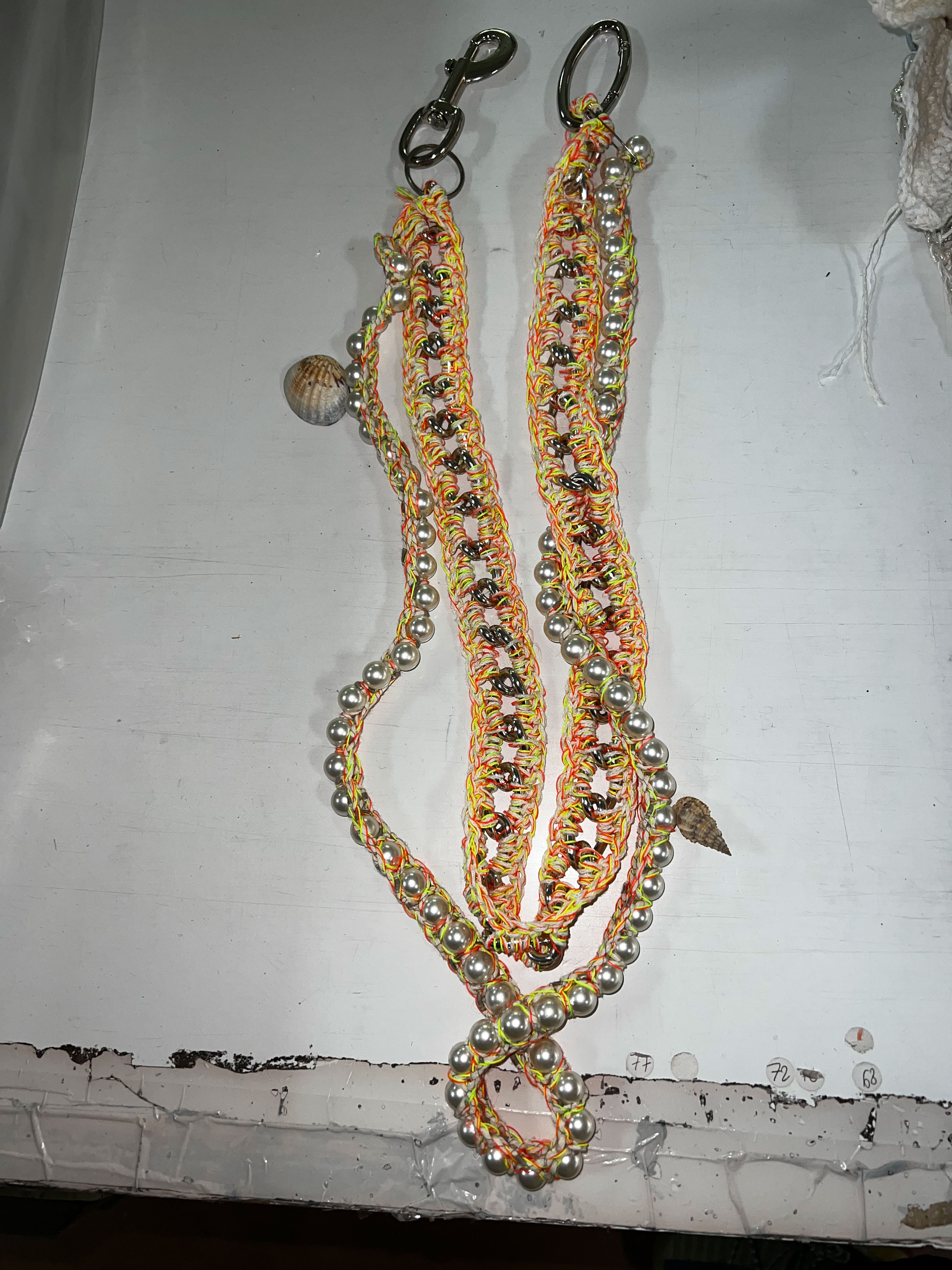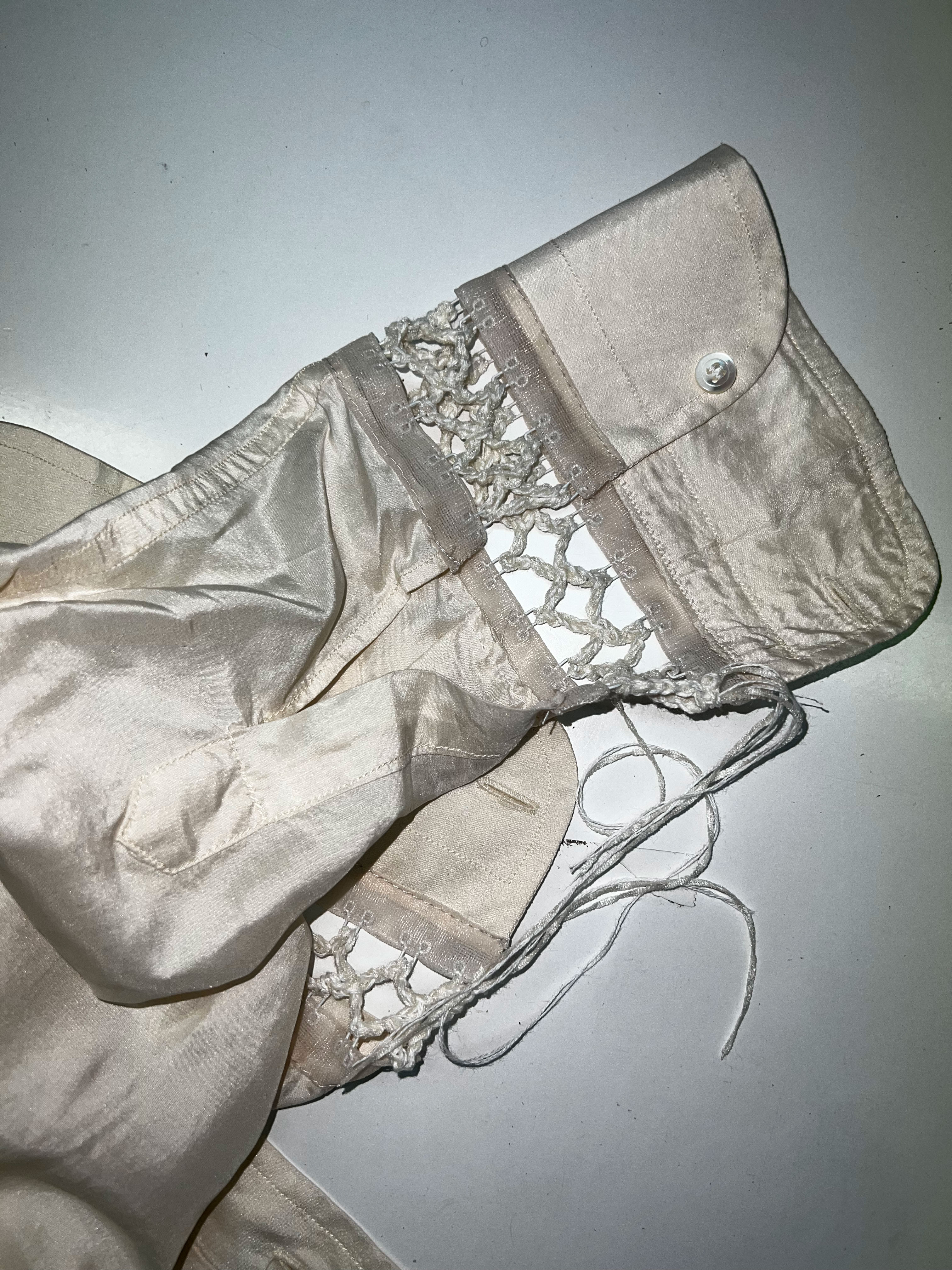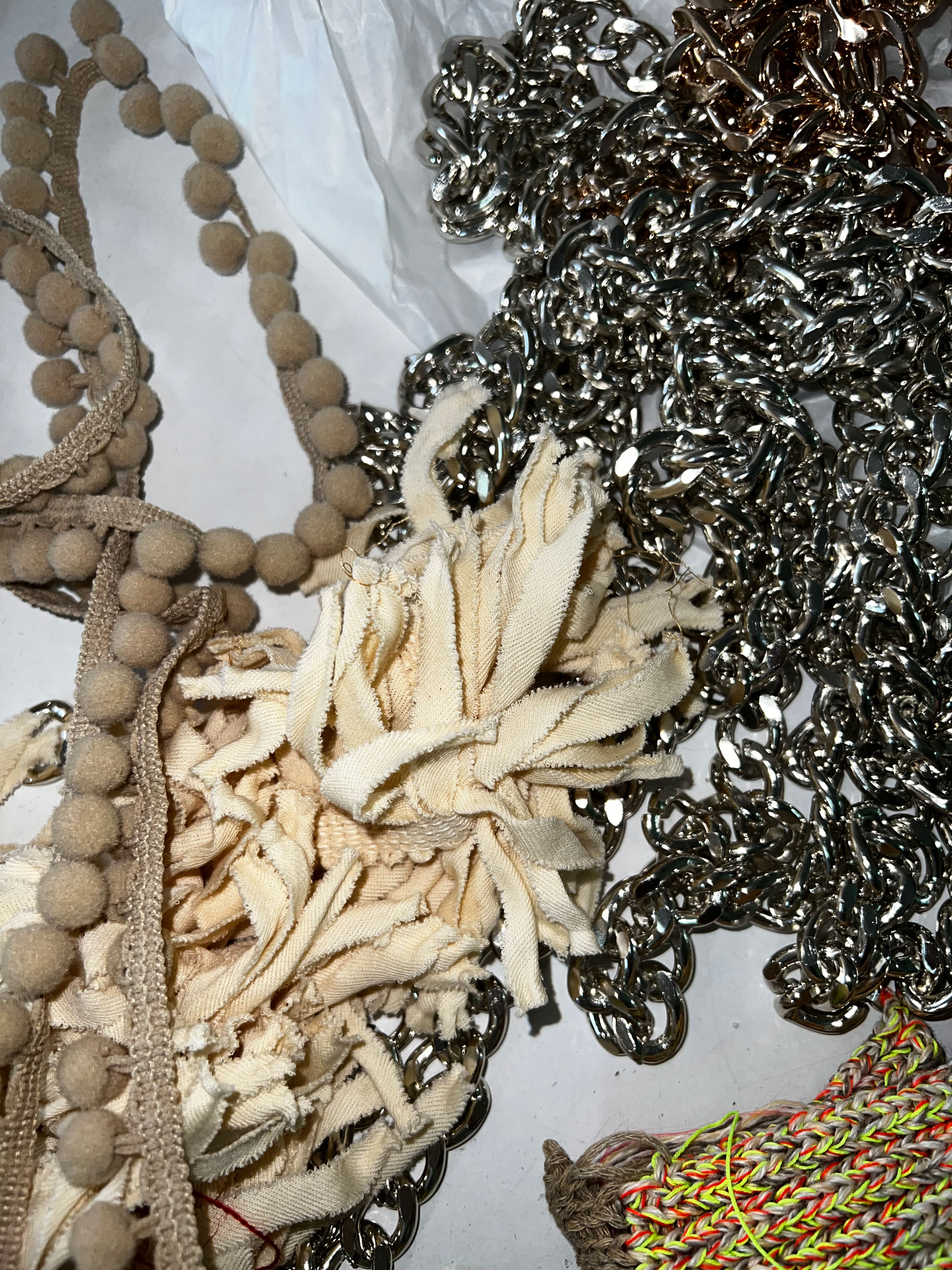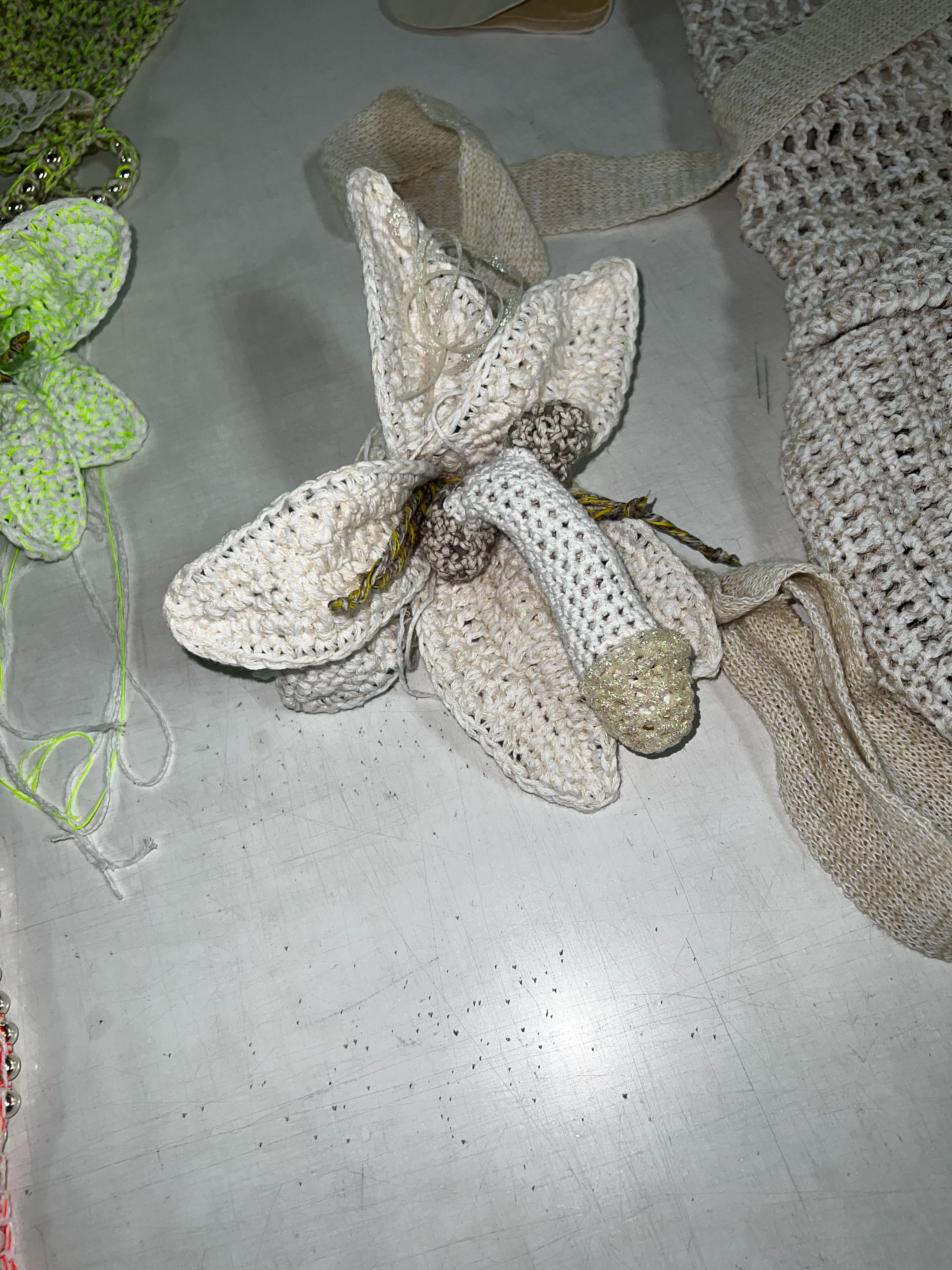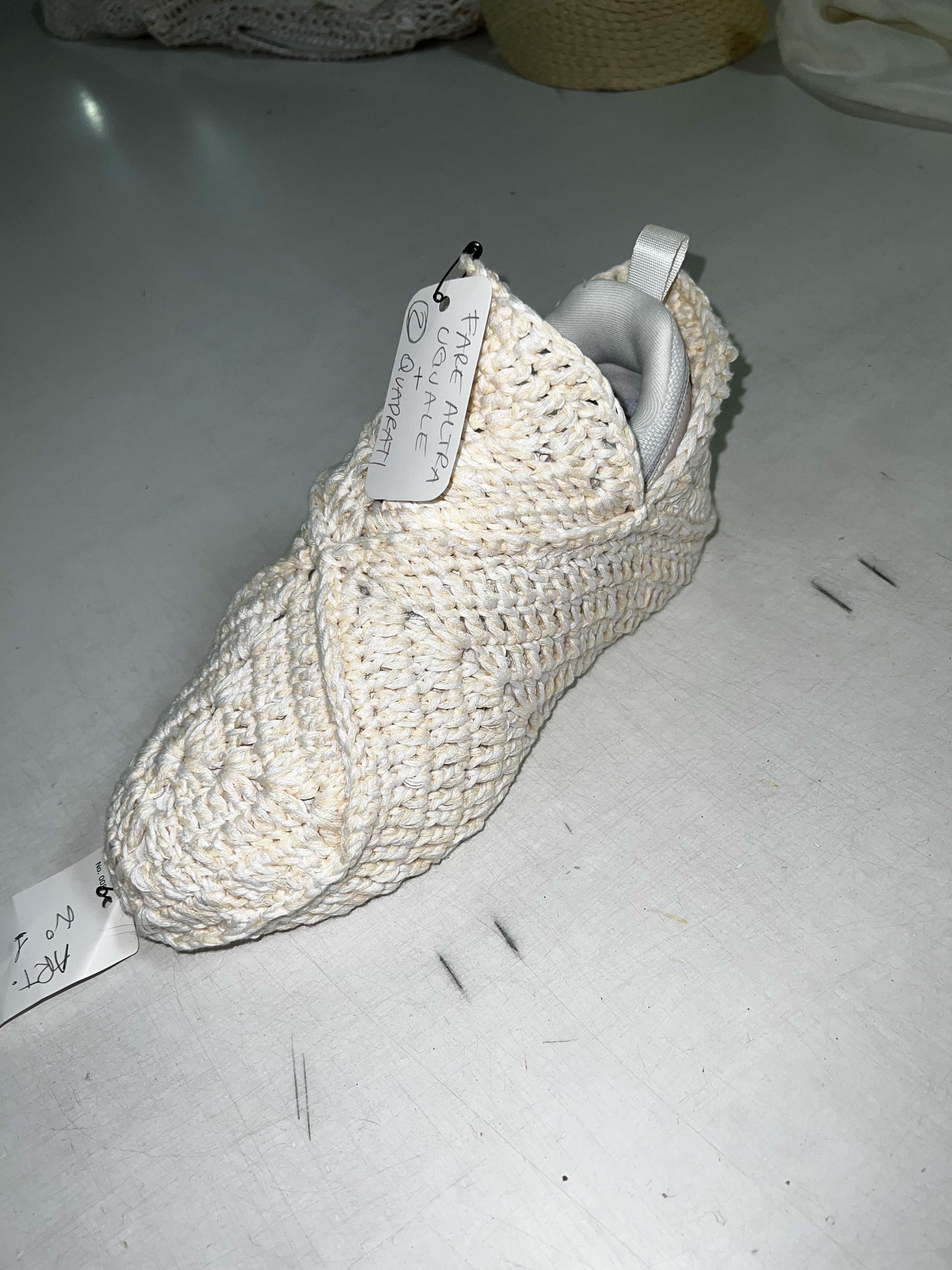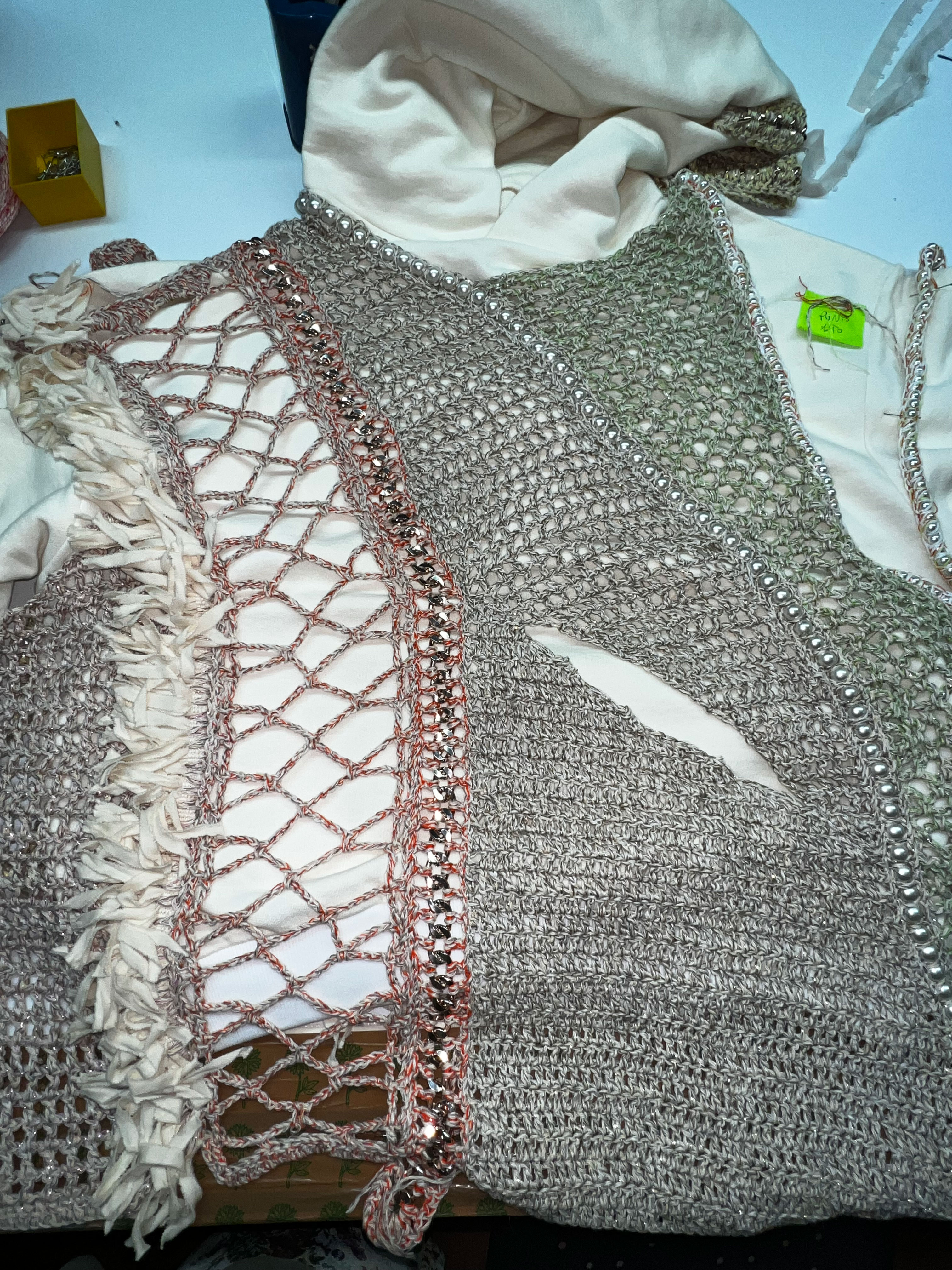 Atelier Nostrano is the transformative heart of MORPHINE. Here items are manually assembled, twisted and turned by a commune of like-minded peers to be finally grouped in cycles. The cycles, mixed, create compendiums.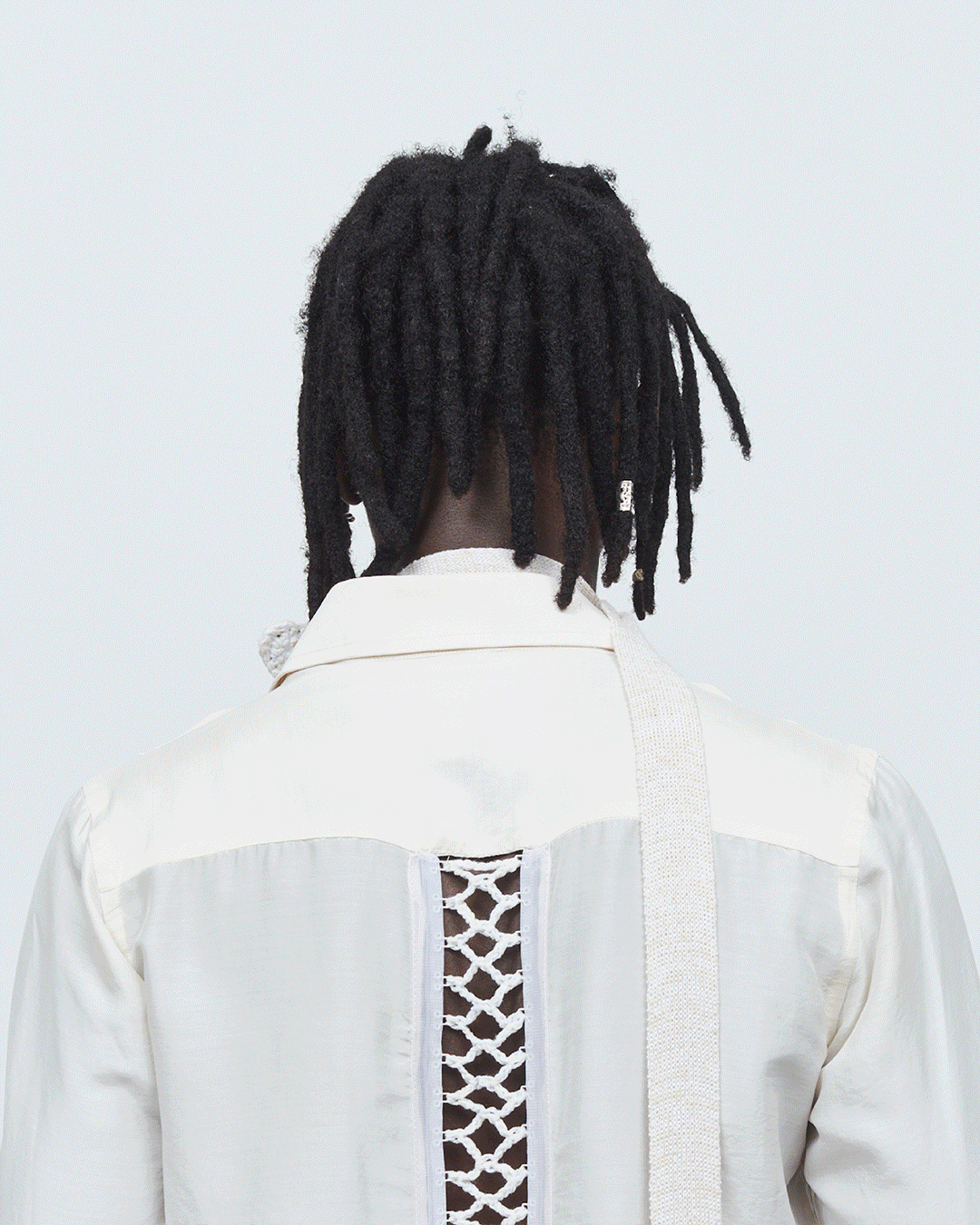 EBRIMA, MARRY MAE,TOBIAS, RICCARDO, LINA GISELLE, RAFFAELE, GLYNE, ANGELA, NETTUNO, ALEXIS, WOOJIN, DIANA FILIPA, KEVIN, GIORGIA, LIZA.
Photographer GABRIELE ROSATI, Light Designer VIATCESLAV SENKEVIC, Digital Operator GIULIA BULLETTI, Director LAVINIA FELIZIANI, Styling MORPHINE STYLE DEPARTMENT, Hair Stylist GABRIELE TREZZI, Hair Assistant LIVIA PRIMOFIORE, Makeup Artist ANDREA SAILIS, Mua Assistant FILIPPO FERRARI, Casting Director SIMO BART, Casting Assistant ERICA MOSCARDINI, Studio BAR STUDIOS, Production GIULIA CAPRESI, Post-Production GABRIELE ROSATI, Web Development TOMMASO NEGRI.
MORPHINE COMPENDIUM 02: ROMA(NTICA)
SHOW HOSTED BY ALTAROMA
PIAZZA DEL CAMPIDOGLIO, ROMA JULY 12TH 2022
MORPHINE, our artisanal upcycling brand has been one of the eleven finalists of WHO IS ON NEXT? 2022, the scouting project for emerging designer. The contest by Altaroma in collaboration with Vogue Italia that supports "Made in Italy".